Rolling back fuel economy requirements down to 1.5% annual increases would raise net cost per vehicle by $2,100
WASHINGTON, DC. — As the federal government reportedly moves closer to finalizing plans to weaken fuel economy and vehicle emissions standards, Consumer Reports has analyzed several likely scenarios, including the recently-reported possibility of rolling back the standards from today's rate of about 5% annual increases to just 1.5%. The analysis finds that requiring only a 1.5% annual increase would cost drivers thousands of dollars more, even after subtracting technology costs to improve fuel economy.
Weakening requirements to 1.5% would do the following:
Increase fuel costs per average new vehicle by $3,200

Increase net costs per average new vehicle by $2,100

Cost nearly every state (45 of 50) at least $1 billion in net consumers losses

Cost all American consumers a total of $300 billion in net losses
Consumer Reports previously published an analysis of a "full freeze" of the current standards at 2020 levels. Since then, the administrator of the Environmental Protection Agency (EPA) has said publicly that the final rule would not be "exactly the same" as the one initially proposed by EPA and the Department of Transportation (DOT), and recent reporting suggests the administration is strongly considering lowering standards to 1.5% increases. The consumer impacts of a full freeze, compared to a near-freeze, would be as follows:

* Figures assume automakers will use available 'credits' and that current credit system goes unchanged, percent improvements are average annual improvements in real world fuel economy for MY 2021-2026.
Chris Harto, a senior policy analyst at Consumer Reports, and a co-author of the study, says, "The analysis shows that a 1.5%-per-year increases would throw us in reverse. The current standards are designed to give automakers a benchmark to reach for, but this rollback would lower the bar for laggard automakers and fail to move the market forward."
Shannon Baker-Branstetter, manager of cars and energy policy at Consumer Reports, and a co-author of the study, says, "The technology to achieve the current targets already exists, so any weakening of fuel economy standards robs consumers of future fuel savings."
CR also calculated how much each state would be financially impacted by a full and partial rollback of the standards. Below is a map showing consumer losses in each state from the 1.5%-per-year scenario. States with higher percentages of light truck owners are hit harder by a weakening of the standards than similar-sized states with more cars. In general, around 70% of the costs of the rollback scenarios will fall on drivers of light trucks.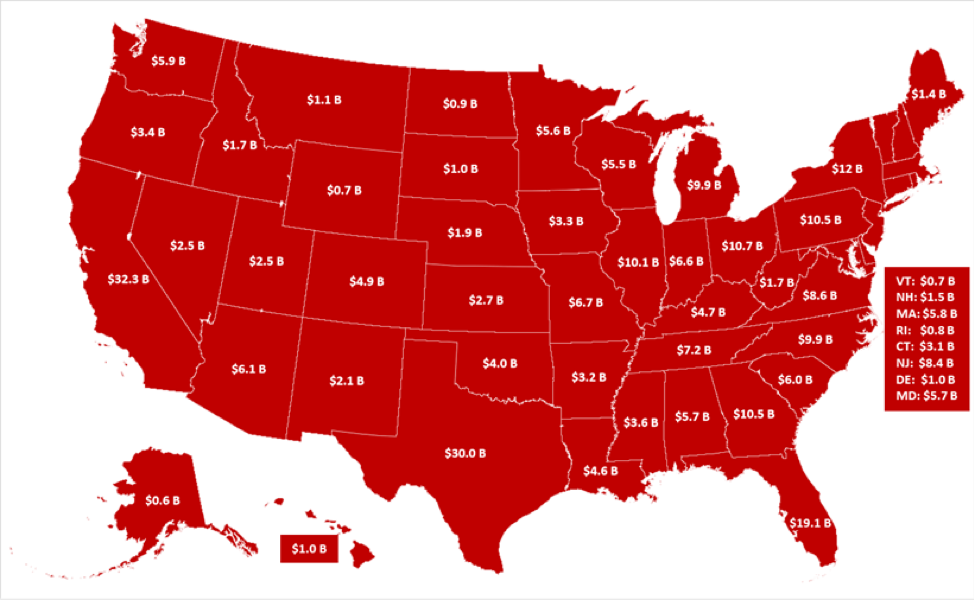 Fuel economy is very popular among drivers because it saves them money and helps reduce air pollution. 9 in 10 Americans say they want automakers to produce more efficient vehicles, according to a recent Consumer Reports survey, and pickup truck and SUV drivers in particular say it's the feature they most want improved in their next vehicle. However, only 34% of Americans think that automakers care about lowering fuel costs for their customers.
For more analysis on fuel economy from Consumer Reports, check out CR.org/carfacts.
###
Consumer Reports is a nonprofit consumer membership organization that works side by side with consumers to create a fairer, safer, and healthier world. For 80 years CR has been providing evidence-based product testing and ratings, rigorous research, hard-hitting investigative journalism, public education, and steadfast policy action on behalf of consumer interests. For more information, go to CR.org/Advocacy.