Consumers Skeptical of Automakers' Efforts as Regulators Move to Roll Back Standards
---
WASHINGTON, DC — As auto regulators work to finalize a roll back of fuel economy standards in the coming weeks, a new Consumer Reports nationally-representative survey finds that many consumers wish their vehicle got more miles per gallon of gas, especially those who drive a pickup truck or sport utility vehicle (SUV).
According to the survey, 73 percent of people currently driving a 'Large SUV' or 'Pickup Truck' are interested in getting a vehicle that is more efficient than their current one, compared to 42 percent of drivers of all other types of vehicles. This high level of interest for drivers of larger vehicles is not surprising given the EPA's latest trends report, which found that larger vehicles, like these, have been falling behind on fuel efficiency improvements over the past decade. Further, a roll back of federal fuel economy standards would burden pickup truck and SUV drivers with 70 percent of the additional costs to consumers — which altogether will total $460 billion, mostly in lost fuel savings — over the coming years, according to a recent Consumer Reports study.
According to Shannon Baker-Branstetter, manager of cars and energy policy for Consumer Reports, the technology exists for automakers to build pickups and SUVs that also deliver better fuel economy and net savings from lower fuel costs, but there are few fuel-efficient choices currently available on the market.
"Consumers should be offered fuel-efficient choices for all types of vehicles," says Shannon Baker-Branstetter. "Progress has already been made in fuel economy technology and deployment for cars and crossovers. These survey results should tell automakers and regulators that truck and SUV owners want improved fuel economy, not a rollback of current efforts."
In general, our survey finds that fuel economy is the attribute American drivers most want to see improved in their next vehicle. Thirty-seven percent of American car owners chose fuel economy, more than the number of responses for maintenance costs (26 percent), purchase price (23 percent), and infotainment/connectivity (also 23 percent) — the next most-selected features in need of improvement. Owners of 'Large SUVs' and 'Pickup Trucks' are almost twice as likely as drivers of small or midsize vehicles to select fuel economy as a desired improvement attribute (55 percent vs. 30 percent).
Overall, an overwhelming majority — 88 percent — of American adults agree that automakers should continue to improve fuel economy for all vehicle types. However, only about a third (34 percent) of American adults think that automakers care about lowering fuel costs for customers.
"Our survey found support for improved fuel economy cuts across party lines," adds Baker-Branstetter. "This isn't a partisan political issue, and it shouldn't be treated as one by regulators," she adds.
HIGHLIGHTS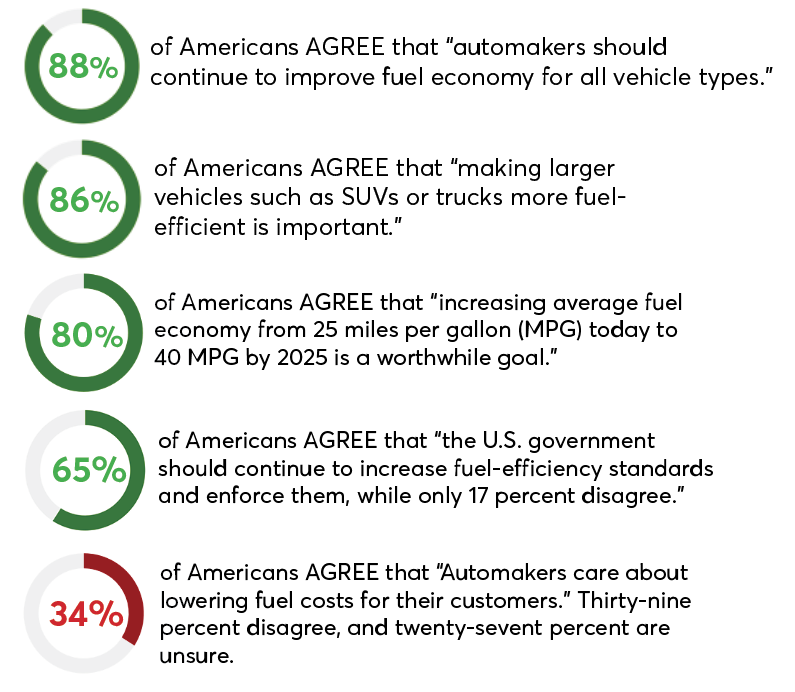 METHODOLOGY
This survey was administered from June 18 to June 27, 2019. The nationally representative sample consists of 1,078 American adult residents (972 surveys were administered online and 106 interviews were conducted by phone). The 1,011 respondents who screened in to the main survey are currently licensed drivers who own a vehicle.  
Findings presented in this report represent analyses of data after weighting was applied to respondent-level data to approximate Census-based estimates. Data are weighted based on demographic and geographic benchmarks established by the most recent U.S. Census Bureau's and U.S. Bureau of Labor Statistics' Current Population Survey. 
The margin of error on the weighted data, when accounting for a design effect of 1.94, is +/- 4.16 percentage points at the 95% confidence level for the nationally representative sample of 1,078 U.S. residents.
Media Contact: Adam Winer, adam.winer@consumer.org, 202-462-6262 x7444
###
Consumer Reports is a nonprofit consumer advocacy organization that works side by side with consumers to create a fairer, safer, and healthier world. For 80 years, CR has provided evidence-based product testing and ratings, rigorous research, hard-hitting investigative journalism, public education, and steadfast policy action on behalf of consumers' interests. Unconstrained by advertising or other commercial influences, CR has exposed landmark public health and safety issues and strives to be a catalyst for pro-consumer changes in the marketplace. From championing responsible auto safety standards, to winning food and water protections, to enhancing healthcare quality, to fighting back against predatory lenders in the financial markets, Consumer Reports has always been on the front lines, raising the voices of consumers.