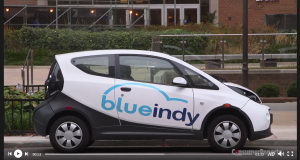 The U.S. is taking a big step toward making electric vehicles (EVs) accessible for millions of Americans across the country. Last month, the White House  announced a series of actions, including new financial investments and public-private collaborations, to break down barriers to EV adoption and encourage greater innovation to EV technologies. This effort builds on existing programs in several cities, like Indianapolis, to expand the use of low- and zero-emission vehicles in their municipal fleets.
Making electric cars accessible for more Americans requires developing a broad-based electric charging infrastructure. One of the current psychological hurdles to widespread adoption of electric vehicles is the issue of range anxiety – the concern about running out of power before you get to your destination. Using $4.5 billion in loan guarantees from the U.S. Department of Energy, the White House and the Department of Transportation are looking to spur greater investments and innovation to develop EV fast charging corridors. The effort has led to commitments from 12 of the nation's largest utility companies to help facilitate the development of these corridors to help drivers recharge easily even when covering long distances and road trips.
A number of automakers have also committed to offering consumers more clean vehicle choices by expanding their fleet of electrified vehicles.  BMW has committed to developing plug-in hybrid models for all its high-volume vehicles. Ford is investing $4.5 billion of its own to develop 13 new electric vehicles by 2020. GM will roll out its new fully-electric Bolt next year and include more electrified options among car sharing program like Lyft's Express Drive fleet. Mercedes Benz and Nissan have also made commitments to significantly expand EV options within their fleets.
The effort is also designed to rev up batteries for electric vehicles – to make then more efficient, faster to full charge and more affordable. The U.S. Department of Energy will lead a collaborative effort with utilities and other industry leaders to explore the development of 350kw charging systems – which would be capable of charging a 200-mile battery in less than 10 minutes.
In addition to building infrastructure and improving technology for EVs, the partnership also helps to add more EVs on the road.  State and local governments can now join the federal government  to leverage their buying power to dramatically increase the number of EVs in municipal fleets in a cost-effective manner.
Some cities are already taking the initiative to expand the use of EVs for city workers.
One example of success is Indianapolis. The city known for high-tech gas-guzzling race cars is a pioneer in electric car adoption. The city is in the process of converting its non-emergency fleet to electric and hybrid vehicles, helping to slash fuel consumption, saving taxpayer dollars on fuel costs, and improving air quality.
The city is also the first in the nation to offer a car sharing program featuring an all-electric vehicle fleet. Modeled off of successful programs in France, BlueIndy is helping to introduce electric vehicles to more drivers. Since the program launched less than a year ago, over 2,000 residents have signed up to be subscribers.
Los Angeles also expects to launch an EV car sharing program and recently announced that the deployment of over 100 electric vehicles in the city's non-emergency police fleet.  Other cities, like Atlanta, Houston and New York are moving to incorporate electric and hybrid vehicles into their city fleets as well.
These efforts are gaining traction as consumers are increasingly open to owning an electric vehicle. Sales of EVs in the U.S. have gone from approximately 50,000 in 2012 to over 115,000 in 2015 and EV sales for 2016 are on track to beat last year's levels.  According to a recent survey by Consumers Union and the Union of Concerned Scientists, over one-third of residents in the Northeast would consider an EV as their next vehicle. In California, the interest is even higher with more than half considering an EV as their next vehicle.
Public investments are often the catalyst needed to spur widespread adoption of new technologies. This new initiative could be the spark that brings programs like those benefiting residents in Indianapolis to millions of Americans in cities across the country.