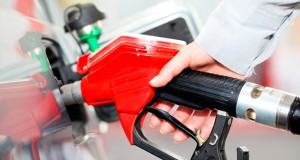 Executive Summary
Higher fuel efficiency in cars and trucks lowers annual fuel spending. But does boosting fuel economy drive up the cost of new vehicles and put them out of reach of low-income buyers, as claimed by some opponents of fuel economy standards?
While the price of other consumer goods has risen over the past two decades, vehicle prices have remained flat, even as passenger cars and trucks go farther on every gallon of gas. Using consumer-spending data, this report details how new and used car prices have changed over the last 20 years, and examines other factors affecting affordability of new cars for low- and moderate-income households.
Across all income groups, spending on gasoline has decreased since 2005. That is partly because of lower gas prices, but it is also due to better gas mileage for passenger cars and trucks. After adjusting for inflation, the analysis found gas prices decreased by 12 percent over this period, while fuel economy for new vehicles improved by 25 percent.
Highlights from the report —More Mileage for your Money: Fuel economy increases while vehicle prices remain stable —include the following:
Car buyers are enjoying higher fuel economy than before – and they are paying less for it. The report finds that the average price of new and used cars and light-duty trucks has remained relatively flat since 1997. Over the same period of time, fuel economy of new cars and trucks has continued to improve, which carries forward into the used car market.
Fuel efficiency improvements have been a boon for consumers. If fuel economy had not improved from 2005 through 2015 (i.e. if it had stayed at 20 mpg), households purchasing new vehicles would have spent 25 percent more on fuel in 2015 than they actually did. By 2015, the average household buying a new vehicle saved $523 in fuel annually, based on fleet-wide efficiency gains since 2005.
The price of entry-level vehicles has remained approximately the same over the past 10 years. The most affordable vehicle among the top 30 sold in 2015 cost the same (in real terms) as the most affordable top 30 vehicle sold in 2005. (It's a different story for high-end vehicles: the price of the most expensive of the top 30 vehicles increased by 40 percent over the same period).
While the prices of new and used cars have remained flat (or have fallen in real terms), low-income households are under increasing financial pressure from higher prices of other household goods and stagnant wages. The Consumer Price Index, which tracks inflation of consumer goods, finds that the average prices of all goods have increased by about 50 percent over the last 20 years. Education and gasoline prices have risen even faster. Higher prices have been accompanied by stagnant wages for the two lowest quintiles, a combination that leaves low-income households behind in an otherwise growing economy.
Low-income households, which spend more money fueling cars than buying them, are particularly sensitive to gas prices. One recent study found that "as a percent of income, savings on fuel are greatest for lower income households."¹ Specifically, the authors found that savings on fuel costs due to improved miles-per-gallon standards ranged from 4.3 percent of annual income for the lowest income quintile, to 0.9 percent for the highest income quintile.
An earlier Consumers Union study found that owners of vehicles that meet the 2025 fuel economy standards could expect to save $3,200 per car and $4,800 per truck, based on today's low gas prices, over the vehicle's lifetime. Those savings will increase if gas prices go back up. The benefits of improved efficiency in new vehicles also make their way to the used car market, which accounts for 70 percent of vehicle sales annually. Low-income households spend a higher share of their income on fuel, and are more likely to purchase used vehicles.
The analysis presented in this report contradicts automaker claims that the fuel economy standards are hurting low-income households and affordability of new vehicles. In fact, higher fuel economy standards lower vehicle ownership costs for all households, but particularly for low-income households, whether they buy new or used vehicles.
————————————-
¹ Greene, D. and J. Welch. 2016. The Impact of Increased Fuel Economy for Light-Duty Vehicles on the Distribution of Income in the United States. Report Prepared for Oak Ridge National Laboratory and the Energy Foundation. Available at: http://bakercenter.utk.edu/wp-content/uploads/2016/09/EquityImpacts-of-Fuel-Economy-Report_final.pdf