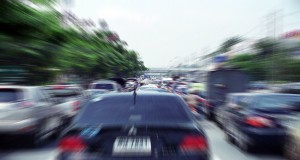 As representatives of a diverse group of safety, public health, bicyclists, pedestrians, smart growth, consumer and environmental groups, law enforcement and first responders, representatives of wheelchair users and individuals affected by motor vehicle crashes, we write urging you to support sensible and needed safety and consumer improvements to legislation pending in the U.S. Senate, S. 1885, the AV START Act. This bill, which addresses the development and deployment of autonomous vehicle (AV) technology or driverless cars, lacks critical public safeguards.
Just this year, at least two people have been killed in crashes involving driving automation systems – including a pedestrian walking a bicycle. The National Transportation Safety Board (NTSB) is investigating those crashes. As the findings from those investigations are likely to have a direct bearing on the AV START Act, we ask that it not move forward until those investigations are complete. While we are hopeful that in the future driverless cars may result in significant reductions in motor vehicle crashes, deaths and injuries, we are very concerned that provisions in the bill put others sharing the road with AVs at unnecessary and unacceptable risk.
We urge you to adopt reasonable and responsible improvements including:
● Requirements for safety standards such as a "vision test" for driverless technologies, cybersecurity and electronics system protections, and distracted driving requirements when a human needs to take back control of a vehicle from a computer;
● Adequate data collection and consumer information;
● Crash analysis data recording that includes parameters designed to aid investigators such as NTSB and the National Highway Traffic Safety Administration (NHTSA);
● Reducing the size and scope of exemptions from federal safety standards;
● Ensuring access for all disability communities, including wheelchair users;
● Subjecting Level 2 vehicles to all safety critical provisions, without blocking state protections for these vehicles;
● Eliminating a section that would allow manufacturers to unilaterally "turn off" vehicle systems;
● Removing provisions that prohibit states and localities from protecting their citizens by regulating the AV system even when it is functioning as the driver of the vehicle; and,
● Providing the U.S. Department of Transportation (DOT) and NHTSA with sufficient resources and authorities.
These changes would protect innovation and technological progress from consumer fears of self-driving technology that have only grown after the recent fatalities. And, they would ensure that AVs are developed and deployed in a way that provides proper government oversight and industry accountability while prioritizing public safety.
For the full letter, click here.