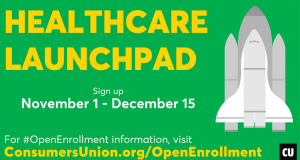 Welcome to the Healthcare Launchpad!
Open Enrollment, which runs from November 1 – December 15, is the only time most people can sign up for a 2018 health insurance plan under the Affordable Care Act (ACA).
You can also find out whether you qualify for financial assistance to help pay for your healthcare coverage during Open Enrollment.
Below, we've explained the steps you'll need to take to enroll. And because some states extend their Open Enrollment beyond December 15, we've listed the key dates for each state—as well as information on how to find local help with the enrollment process.
¿Necesitas ayuda? Haz clic aquí para información en español.
4 Steps for ACA Enrollment:
Explore your state's healthcare exchange.

You can learn about your available coverage options, what financial assistance you qualify for, and get an estimate of your healthcare costs from your state's exchange website. You will have to enter some basic info about yourself and your family to view the plans available in your area. You'll also find out if you're likely to qualify for financial assistance or Medicaid.

Pick a plan.

Once you've entered your information, you will be able to compare costs, including premiums, copays, deductibles, and other out-of-pocket expenses, for each level of coverage (Bronze, Silver, Gold, or Platinum). You should also check if your preferred doctors and hospitals are in the plan network. Keep in mind that you'll generally pay higher premiums for Platinum and Gold plans, but less each time you see a doctor or fill a prescription. And the reverse is generally true with Silver and Bronze level plans: Lower premiums, but higher out-of-pocket expenses.

Apply.

Once you've decided on a plan, you can apply online or by phone. You also can get free, confidential help on the enrollment and application process; follow the links below to set up a local appointment with an Assister in your state.

Pay your bill.

You're not done yet. You need to pay the first month's premium in order for your coverage to take effect. Some plans accept the first payment through the online application system; others will send a bill by mail.
Enrollment information and assistance in your state:
Alabama
November 1, 2017 to December 15, 2017
Healthcare.gov
(800) 318-2596
Contact a local Enrollment Assister
Find local help
Alaska
November 1, 2017 to December 15, 2017
Healthcare.gov
(800) 318-2596
Contact a local Enrollment Assister
Find local help
Arizona
November 1, 2017 to December 15, 2017
Healthcare.gov
(800) 318-2596
Contact a local Enrollment Assister
Find local help
Arkansas
November 1, 2017 to December 15, 2017
Healthcare.gov
(800) 318-2596
Contact a local Enrollment Assister
Find local help
California
November 1, 2017 to January 31, 2018
Covered California
(800) 300-1506
Contact a local Enrollment Assister
Find local help
Colorado
November 1, 2017 to January 12, 2018
Connect for Health CO
(855) 752-6749
Contact a local Enrollment Assister
Find local help
Connecticut
November 1, 2017 to December 22, 2017
Access Health CT
(855) 805-4325
Contact a local Enrollment Assister
Find local help
Delaware
November 1, 2017 to December 15, 2017
Healthcare.gov
(800) 318-2596
Contact a local Enrollment Assister
Find local help
District of Columbia
November 1, 2017 to January 31, 2018
DC Health Link
(855) 532-5465
Contact a local Enrollment Assister
Find local help
Florida
November 1, 2017 to December 15, 2017
My Florida Choices
(800) 396-5990
Contact a local Enrollment Assister
Find local help
Georgia
November 1, 2017 to December 15, 2017
Healthcare.gov
(800) 318-2596
Contact a local Enrollment Assister
Find local help
Hawaii
November 1, 2017 to December 15, 2017
Healthcare.gov
(800) 318-2596
Contact a local Enrollment Assister
Find local help
Idaho
November 1, 2017 – December 15, 2017
Your Health Idaho
(855) 944-3246
Contact a local Enrollment Assister
Find local help
Illinois
November 1, 2017 to December 15, 2017
Healthcare.gov
(800) 318-2596
Contact a local Enrollment Assister
Find local help
Indiana
November 1, 2017 to December 15, 2017
Healthcare.gov
(800) 318-2596
Contact a local Enrollment Assister
Find local help
Iowa
November 1, 2017 to December 15, 2017
Healthcare.gov
(800) 318-2596
Contact a local Enrollment Assister
Find local help
Kansas
November 1, 2017 to December 15, 2017
Healthcare.gov
(800) 318-2596
Contact a local Enrollment Assister
Find local help
Kentucky
November 1, 2017 to December 15, 2017
Healthcare.gov
(800) 318-2596
Contact a local Enrollment Assister
Find local help
Louisiana
November 1, 2017 to December 15, 2017
Healthcare.gov
(800) 318-2596
Contact a local Enrollment Assister
Find local help
Maine
November 1, 2017 to December 15, 2017
Healthcare.gov
(800) 318-2596
Contact a local Enrollment Assister
Find local help
Maryland
November 1, 2017 to December 15, 2017
MD Health Connection
(855) 642-8572
Contact a local Enrollment Assister
Find local help
Massachusetts
November 1, 2017 to January 23, 2018
MA Health Connector
(877) 623-6765
Contact a local Enrollment Assister
Find local help
Michigan
November 1, 2017 to December 15, 2017
Healthcare.gov
(800) 318-2596
Contact a local Enrollment Assister
Find local help
Minnesota
November 1, 2017 to January 14, 2018
MNsure
(855) 366-7873
Contact a local Enrollment Assister
Find local help
Mississippi
November 1, 2017 to December 15, 2017
Healthcare.gov
(800) 318-2596
Contact a local Enrollment Assister
Find local help
Missouri
November 1, 2017 to December 15, 2017
Healthcare.gov
(800) 318-2596
Contact a local Enrollment Assister
Find local help
Montana
November 1, 2017 to December 15, 2017
Healthcare.gov
(800) 318-2596
Contact a local Enrollment Assister
Find local help
Nebraska
November 1, 2017 to December 15, 2017
Healthcare.gov
(800) 318-2596
Contact a local Enrollment Assister
Find local help
Nevada
November 1, 2017 to December 15, 2017
Healthcare.gov
(800) 318-2596
Contact a local Enrollment Assister
Find local help
New Hampshire
November 1, 2017 to December 15, 2017
Healthcare.gov
(800) 318-2596
Contact a local Enrollment Assister
Find local help
New Jersey
November 1, 2017 to December 15, 2017
Healthcare.gov
(800) 318-2596
Contact a local Enrollment Assister
Find local help
New Mexico
November 1, 2017 to December 15, 2017
Healthcare.gov
(800) 318-2596
Contact a local Enrollment Assister
Find local help
New York
November 1, 2017 to January 31, 2018
NY State of Health
(855) 355-5777
Contact a local Enrollment Assister
Find local help
North Carolina
November 1, 2017 to December 15, 2017
Healthcare.gov
(800) 318-2596
Contact a local Enrollment Assister
Find local help
North Dakota
November 1, 2017 to December 15, 2017
Healthcare.gov
(800) 318-2596
Contact a local Enrollment Assister
Find local help
Ohio
November 1, 2017 to December 15, 2017
Healthcare.gov
(800) 318-2596
Contact a local Enrollment Assister
Find local help
Oklahoma
November 1, 2017 to December 15, 2017
Healthcare.gov
(800) 318-2596
Contact a local Enrollment Assister
Find local help
Oregon
November 1, 2017 to December 15, 2017
Healthcare.gov
(800) 318-2596
Contact a local Enrollment Assister
Find local help
Pennsylvania
November 1, 2017 to December 15, 2017
Healthcare.gov
(800) 318-2596
Contact a local Enrollment Assister
Find local help
Rhode Island
November 1, 2017 to December 31, 2017
HealthSource RI
(855) 840-4774
Contact a local Enrollment Assister
Find local help
South Carolina
November 1, 2017 to December 15, 2017
Healthcare.gov
(800) 318-2596
Contact a local Enrollment Assister
Find local help
South Dakota
November 1, 2017 to December 15, 2017
Healthcare.gov
(800) 318-2596
Contact a local Enrollment Assister
Find local help
Tennessee
November 1, 2017 to December 15, 2017
Healthcare.gov
(800) 318-2596
Contact a local Enrollment Assister
Find local help
Texas
November 1, 2017 to December 15, 2017
Healthcare.gov
(800) 318-2596
Contact a local Enrollment Assister
Find local help
Utah
November 1, 2017 to December 15, 2017
Healthcare.gov
(800) 318-2596
Contact a local Enrollment Assister
Find local help
Vermont
November 1, 2017 to December 15, 2017
Health Connect Vermont
(855) 899-9600
Contact a local Enrollment Assister
Find local help
Virginia
November 1, 2017 to December 15, 2017
Healthcare.gov
(800) 318-2596
Contact a local Enrollment Assister
Find Local Help
Washington
November 1, 2017 to January 15, 2017
WA Health Plan Finder
(855) 923-463
Contact a local Enrollment Assister
Find local help
West Virginia
November 1, 2017 to December 15, 2017
Healthcare.gov
(800) 318-2596
Contact a local Enrollment Assister
Find Local Help
Wisconsin
November 1, 2017 to December 15, 2017
Healthcare.gov
(800) 318-2596
Contact a local Enrollment Assister
Find Local Help
Wyoming
November 1, 2017 to December 15, 2017
Healthcare.gov
(800) 318-2596
Contact a local Enrollment Assister
Find Local Help