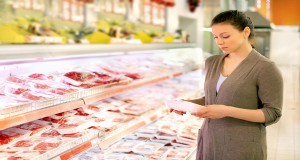 June 10, 2015
U.S. House of Representatives
Washington, D.C. 20515
Dear Representative:
Consumers Union, the public policy and advocacy arm of Consumer Reports, urges you to vote no on H.R. 2393, the Country of Origin Labeling Amendments Act of 2015.  The bill would hastily and needlessly repeal several types of country-of-origin labeling on meat, depriving consumers of vital information that helps them make informed choices about the food they buy and serve to their families.
Consumers Union strongly supports country-of-origin labeling (COOL) for food products as an important type of consumer information.  Our surveys have consistently shown that more than 90% of consumers would prefer to have a country-of-origin label on the meat they buy, and other groups' polling has shown similar results.  That's why Congress approved COOL in both the 2002 and 2008 farm bills.  After unsuccessful industry lawsuits and other delays, the labels finally began appearing on meat in grocery stores within the last year, providing consumers with clear, detailed information on where meat-producing animals were born, raised, and slaughtered.
We were disappointed when the World Trade Organization (WTO) issued a final ruling last month rejecting the United States' defense of COOL and accepting Canada and Mexico's claim that the law discriminates against their livestock.  The two countries are now making retaliatory threats against the U.S., based on unrealistic estimates of the law's economic impact on their producers.
Congress should not be intimidated.  No penalties have yet been accepted by the WTO, and the U.S. may still avoid trade sanctions by negotiating a settlement with Canada and Mexico.  Even if retaliation occurs, it is not likely to begin for many months, during which time the United States could develop and implement a solution preserving consumers' access to country-of-origin information.  Contrary to statements made by the proponents of H.R. 2393, a settlement with our trade partners would be the true "targeted response" to the WTO ruling.
Moreover, a settlement with Canada and Mexico is likely to actually be far better for consumers than the unreasonable proposals contained in H.R. 2393.  Although the WTO ruling only covered muscle cuts of beef, H.R. 2393 would go well beyond these to also repeal COOL for ground beef, ground pork, and chicken products.  Major food processors have long resisted providing consumers with reasonable country-of-origin information, and have advocated for this bill's attempt to roll back COOL for several different food products.
We believe a broad repeal of COOL requirements, as proposed by H.R. 2393, is misguided – and numerous others agree.  On Monday, more than 280 farm, rural, consumer, manufacturer, labor, faith, and environmental groups, including Consumers Union, wrote the Committee on Agriculture to express opposition to H.R. 2393.  Similarly, Ranking Member Collin Peterson and his colleagues wrote in their dissenting views of H.R. 2393, "The purpose of country of origin labeling—to provide information to consumers about the food they eat—has repeatedly been ruled by the WTO to be a legitimate regulatory goal… We should not so readily abandon our efforts to provide U.S. consumers with information they have repeatedly said they want."
Country-of-origin labeling is overwhelmingly popular among consumers because it provides them with important information about their food as an increasing portion of it comes from outside the United States.  We encourage you to prioritize their views when determining how best to respond to the WTO ruling – and therefore urge you to vote no on H.R. 2393.
Sincerely,
Jean Halloran
Director, Food Policy Initiatives
Consumers Union
William C. Wallace
Policy Analyst
Consumers Union