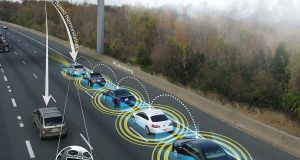 Consumers Union, the policy and mobilization arm of Consumer Reports, welcomes the opportunity to comment on the notice of proposed rulemaking by the National Highway Traffic Safety Administration (NHTSA) regarding Federal Motor Vehicle Safety Standard No. 150, which would mandate vehicle-to-vehicle (V2V) communications capability on all new light vehicles. The proposed rule also would standardize the content and format of V2V transmissions, setting a common specification for basic safety messages sent to other vehicles about a car's position, speed, heading, acceleration, trajectory, and other core vehicle information.
We appreciate NHTSA's extensive work to investigate the potential traffic safety benefits of V2V-based features, and agree with the agency that V2V safety applications could significantly reduce the number and severity of motor vehicle crashes—particularly because they may address crashes that cannot be prevented by current in-vehicle camera- and sensor-based technologies. Accordingly, we support the establishment of a mandatory safety standard governing the use of wireless communications for crash prevention purposes, provided that the rule reasonably accounts for potential future developments and that manufacturers and suppliers meet baseline, enforceable standards to protect the privacy and security of communications.
For the full comments, click here.