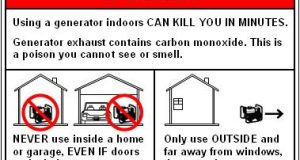 We appreciate the work accomplished thus far by the CPSC to research the carbon monoxide hazard, and strongly support the continued development of a mandatory safety standard.
Starting ten years ago, the CPSC required a clear label on portable generators that warns consumers, in appropriately descriptive and severe terms, about the deadly risks of operating the product in the wrong place. Our organizations support this label, and in our own work, we always consider it important for us to urge consumers to heed safety instructions and to be responsible for the safe use of products.
However, as the incident data make tragically clear, education and warning labels alone are not enough to protect consumers from carbon monoxide poisoning. With an average of about 70 deaths and several thousand non-fatal injuries annually, we strongly agree with the Commission that performance requirements are needed—and they are needed without any further delay.
For the full comments, click here.