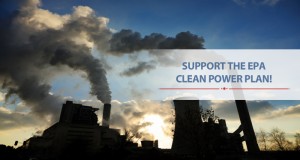 How does your state compare?
This month marks the first anniversary of the unveiling of the Clean Power Plan (CPP) — a critical tool in slashing greenhouse gas emissions and other pollutants from the U.S. power sector. The strategies to reduce those emissions – expanding renewable energy options and implementing more energy efficiency programs – will have the added benefit of lowering the cost of electricity for consumers across the country.
These savings were confirmed by a recent analysis conducted by researchers at the Georgia Institute of Technology. Their analysis looked at the various pathways states have to meet the goals of the Clean Power Plan and the impact state plans could have on consumers' electricity bills.
The CPP sets pollution reduction targets for each state, while offering states a significant degree of flexibility in how they achieve emission reductions. But different pathways yield dramatically different  benefits for consumers.
According to the Georgia Tech study, the key to success is prioritizing and maximizing energy efficiency and expanding low-cost solar power. They found that a focus on energy efficiency provisions and clean energy investments would lead to hundreds of dollars in savings for ratepayers.  Over a 15 year period, the average American household could save over $1,800 in electricity costs. Without these efficiency and clean energy investments, energy bills would be expected to continue to rise for the average household in the U.S.
As the study notes, energy efficiency offers multiple benefits. By reducing overall electricity demand, states will see an overall reduction in CO2 emissions, greatly benefitting the environment. Reducing electricity demand also means that states will save money by not needing to upgrade expensive coal plants or build new natural gas capacity. Not only will this benefit the environment and states' economies but it also helps consumers by making the transition to clean power, like solar and wind, more affordable.
The report also included a summary of benefits for residents in a number of states, including California, Colorado, Florida, Georgia, Massachusetts, Michigan, Missouri, New York, Pennsylvania, Tennessee, Texas and Virginia. The savings for residents in each state varies with the CPP emission reduction targets for those states. For example, the least-cost compliance methods for Colorado would result in average household savings of approximately $1,400 over a 15 year period. Savings would be about $1,880 for residents in Pennsylvania and a whopping $2,900 for residents in Virginia.  Here are a few examples of the annual savings consumers can expect in these states by 2030:
Consumers Union has long advocated for strong standards for cleaner air and energy efficiency that would lead to savings for utility ratepayers.  In addition to encouraging greater renewable energy adoption and maximizing energy efficiency, CU has developed a series of principles that states can adopt to ensure that the Clean Power Plan is implemented in a way that decreases pollution, revitalizes communities and prevents unwarranted utility hikes for consumers. These principles include:
Ensuring an open and transparent process in developing a state's Clean Power Plan;
Ensuring meaningful engagement with all stakeholders, including consumers and representatives from low-income communities;
Returning utility revenues from the program back into community revitalization and reducing utility bills;
Prioritizing pollution reduction and rate-reductions for low-income communities and households with fixed incomes;
Maximizing the value of the Clean Energy Incentive Program to boost energy efficiency programs for low-income communities;
Ensuring public health benefits of pollution reduction reach vulnerable communities;
Directing investments to maximize local economic benefits, like hiring local workers with fair wages and;
Regularly analyzing compliance to ensure each of the goals is being achieved.
The full Georgia Tech study including a state by state analysis on the impact of the Clean Power Plan on household energy bills can be found on the report's website.
Learn how you can improve the energy efficiency of your home and to find programs offered by your state, check out the Database of State Incentives for Renewables & Efficiency.