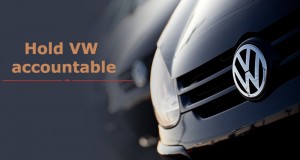 Wednesday, January 11, 2017
WASHINGTON, D.C. – Volkswagen today admitted to criminal wrongdoings in its emissions scandal, and agreed to pay a $2.8 billion criminal fine and an additional $1.5 billion in civil penalties for its actions to cheat emissions standards. The Department of Justice also announced the indictment of six former high-level VW executives for their roles.
Consumers Union, the policy and mobilization arm of Consumer Reports, has urged the government to hold Volkswagen accountable for its violations and praised the Justice Department's efforts on behalf of consumers.
"Volkswagen broke the law. The company cheated consumers and polluted the air, and now it is right that the company will pay a price for these harms," said Laura MacCleery, vice president of consumer policy and mobilization for Consumer Reports. "We commend the Justice Department for its work to bring justice to consumers, and for moving forward to hold executives accountable for this scandal."
MacCleery added, "We will keep working with consumers and doing testing to hold all companies responsible when they deceive the public."