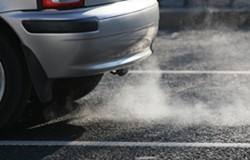 Friday, May 26, 2017
WASHINGTON – A group of senators introduced a bill recently that would weaken the consumer benefits of the federal fuel economy standards. If passed, consumers could end up paying $34 billion more in fuel. The bill would allow automakers to stall implementation of fuel-saving technologies across all vehicles, especially larger vehicles like SUVs and pick-up trucks, ultimately burdening consumers with higher fuel costs and harmful emissions.
"Consumers can't afford for Congress to offer automakers special treatment that would stall fuel-saving innovations," said Shannon Baker-Branstetter, policy counsel for Consumers Union, the policy and mobilization division of Consumer Reports. "This bill is essentially a rollback of consumer protection standards that clean the air and save consumers money."
The bill, introduced by Senators Roy Blunt (R-MO), Debbie Stabenow (D-MI), Jerry Moran (R-KS), Gary Peters (D-MI), Todd Young (R, IN) and Claire McCaskill (D-MO), offers automakers retroactive credit for improvements already made in earlier model years. The excess credits would dampen future improvements to automotive efficiency, forcing consumers to pay more at the pump. The bill would also allow manufacturers to transfer credits from cars to trucks, reducing the need to deploy technologies in trucks and SUVs that have the most room for improvement and have been improving the fastest.
"Americans who depend on larger vehicles and trucks for work or family needs would suffer most," continued Baker-Branstetter. "Our research has shown that under current standards, truck and SUV owners would save $4,800 over the life of their vehicle. These savings are likely to be much lower if this draft bill is approved."
This bill was introduced as the White House has signaled its intentions to delay fuel efficiency targets set for 2022-2025 and recently proposed a massive cut to EPA's auto emissions testing lab that has uncovered misleading fuel efficiency labeling by a number of automakers in recent years. Combined, these efforts are a significant shift in favor of industry demands and puts consumers at risk of increased fuel costs and exposure to harmful emissions.
"The current fuel economy program is built to provide everyone with an efficient vehicle that meets their needs, whether you drive a hatchback to the office or tow large equipment by truck," continued Baker-Branstetter. "The automotive industry's assault on standards could mean that hard-working Americans spend more at the pump and less on their household needs."