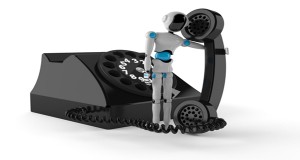 Monday, March 2, 2015
Over 200,000 Consumers Sign Petition To Stop Unwanted Robocalls
Consumers Union Campaign Demands Telephone Companies
Offer Free, Effective Call-Blocking Solutions to Customers
 SAN FRANCISCO, CA – Just one week after Consumers Union launched its new campaign to help consumers stop unwanted and illegal robocalls, more than 200,000 Americans have already signed a petition calling on the top phone companies to offer customers free call-blocking tools.
"Americans are fed up with being harassed by robocalls and they are demanding relief," said Christina Tetreault, staff attorney for Consumers Union, the policy and advocacy division of Consumer Reports.  "Our campaign is just getting started but hundreds of thousands have already joined the fight.  The phone companies need to start listening and provide their customers with effective tools to block unwanted robocalls."
Consumers Union's campaign is mobilizing consumers across the country to demand that Verizon, Century Link, and AT&T give customers the choice to use call-blocking technologies to stop unwanted robocalls.  Consumers can find out more and join the campaign atwww.endrobocalls.org.
Robocalls are unsolicited pre-recorded or live phone calls made using a computerized auto-dialer.  Americans have registered more than 217 million phone numbers on the Federal Trade Commission's "Do Not Call" list, yet robocalls are rampant.  Last year, the Federal Trade Commission received 3 million complaints from the public about unwanted robocalls, many from scammers or illegitimate companies that flagrantly violate the law.   Telephone scammers target the elderly and other vulnerable consumers, resulting in an estimated $350 million in financial losses in 2011.
Technology is already available to stop robocalls before they reach a consumer's landline, but few have access to these tools because the phone companies have resisted making them widely available in the U.S.
Consumers Union can connect reporters with consumers frustrated with being harassed by robocalls.  For more information, contactmmccauley@consumer.org
###
Contact:  Michael McCauley, mmccauley@consumer.org or 415-902-9537 (cell)