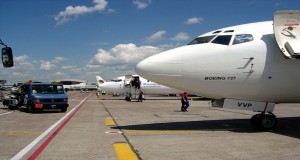 August 13, 2013
Justice Department Files Suit to Block American/US Airways Merger: Consumers Union Statement
WASHINGTON, D.C. – On Tuesday, the Department of Justice (DOJ), with the support of six attorneys general, filed a lawsuit to block the proposed merger of American Airlines and US Airways. Attorneys general from Arizona, Florida, Pennsylvania, Tennessee, Texas and the District of Columbia signed on to this effort.
The Justice Department said that the merger would result in passengers paying higher airfares and receiving less service. Additionally, the lawsuit asserts that the merger, which would result in the creation of the world's largest airline, would substantially lessen competition for commercial air travel in local markets throughout the United States.
Consumers Union, the policy and advocacy division of Consumer Reports, previously raised reservations about the deal's potential impact on consumers. In testimony before the US Senate in March, the consumer group told lawmakers that the proposed merger could hinder, rather than enhance consumers' airline options.
William J. McGee, travel and aviation consultant for Consumers Union, said, "We have continually expressed concerns about the implications that a merger of this scale – the fifth among major network airlines since 2001 – would have on consumers. This suit shows that the Department of Justice shares these concerns. A combined American/US Airways could mean fewer flights and fewer choices for consumers, coupled with higher fares and lower quality of service. Even more so, further consolidation in the airline industry could make it even harder for low-cost alternatives to compete effectively, and take the biggest airlines further into 'too-big-to-fail' territory. We are pleased that the Justice Department and these states have taken action today to protect consumers."
###
Media contact: David Butler, dbutler@consumer.org, or Kara Kelber, kkelber@consumer.org, 202-462-6262