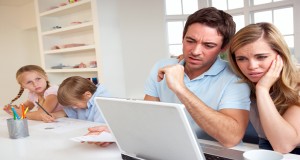 Wednesday, February 12, 2014
RWJF and Consumer Reports' HealthTaxCreditTool.org Explains New Financial Help Available to Pay for Health Insurance Costs
In most states, families of four earning up to $94k annually may be eligible for financial help
Princeton, N.J. — The Robert Wood Johnson Foundation (RWJF) and Consumer Reports have created a free, easy-to-use tool that helps people learn how to lower the cost of health insurance plans offered through the new state marketplaces with the health premium tax credit.
With recent research funded in part by RWJF showing that nearly two thirds of uninsured adults eligible for subsidies did not know they could receive financial assistance in 2014, consumer experts say the new HealthTaxCreditTool.org is a much-needed resource to help consumers find affordable coverage.
"Many Americans who are eligible for financial help are unaware that it's available and don't understand how a tax credit can lower the cost of health insurance," said Lynn Quincy, a senior policy analyst with Consumers Union. "With this new tool, people can learn how financial help can make health insurance affordable for them. For millions of people, there are significant savings."
"A large number of people don't know what's available in terms of financial help, or mistakenly think they earn too much to qualify," said John Lumpkin, MD, senior vice president at RWJF. "We want everyone who is eligible for help to know about it and act on it—and this new tool helps. For many, this credit means the difference between having access to needed healthcare or going without."
The Health Tax Credit Tool allows consumers to anonymously answer a few simple questions to help determine if an individual and his or her family may qualify for tax credits available through the Affordable Care Act. Accompanying information explains how the tax credit works, and outlines options for how people can use the credit. There are two options to use the tax credit: a one-time credit when they file their annual tax returns, or on a monthly basis as they pay for health insurance premiums.
After using the tool, visitors are directed to the appropriate health insurance marketplace—either federal or state—to get their tax credit. In most states, families of four may earn up to $94,200 annually and qualify for financial help.
According to RWJF research, more than 80 percent of uninsured people say they would likely obtain insurance if they received financial help, underscoring the need to promote the tax credit's availability. For more information on the Health Tax Credit Tool, visit www.HealthTaxCreditTool.org.
# # #
Contacts: Chris Clayton, RWJF, 609-627-5759
Kara Kelber, CR, 202-462-6262
For more than 40 years the Robert Wood Johnson Foundation has worked to improve the health and healthcare of all Americans. We are striving to build a national culture of health that will enable all Americans to live longer, healthier lives now and for generations to come. For more information, visit www.rwjf.org. Follow the Foundation on Twitter www.rwjf.org/twitter or Facebook www.rwjf.org/facebook.
Consumer Reports is the world's largest independent product-testing organization. Using its more than 50 labs, auto test center, and survey research center, the nonprofit rates thousands of products and services annually. Founded in 1936, Consumer Reports has over 8 million subscribers to its magazine, website and other publications. Its advocacy division, Consumers Union, works for health reform, product safety, financial reform, and other consumer issues in Washington, D.C., the states, and in the marketplace.