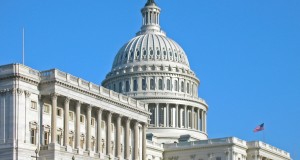 * Center for Food Safety * Consumer Federation of America * Consumers Union *
* Food & Water Watch * Organic Consumers Association * U.S. PIRG *
October 16, 2015
The Honorable Pat Roberts, Chairman
The Honorable Debbie Stabenow, Ranking Member
U.S. Senate Committee on Agriculture, Nutrition, and Forestry
328A Russell Senate Office Building
Washington, D.C. 20510
Dear Chairman Roberts and Ranking Member Stabenow:
As groups representing food consumers nationwide, we write today regarding the October 21, 2015 hearing scheduled by the Committee on Agriculture, Nutrition, and Forestry titled "Agricultural Biotechnology: A Look at Federal Regulation and Stakeholder Perspectives." We are concerned that the panel of nongovernmental witnesses testifying at this hearing may be unbalanced, and may not accurately represent the full extent of consumer concerns on this topic. To ensure that the Committee is adequately informed of these concerns, we urge you to invite at least one representative of the numerous consumer organizations who support mandatory labeling of genetically engineered food to testify at this hearing.
In a post announcing the October 21 hearing, we were pleased to see that the Committee would be including the perspectives of consumers as well as producers, because the subject of genetically engineered food is of great consumer interest. Numerous polls have found that 90 percent of consumers favor mandatory labeling of genetically engineered food. Many consumers believe that—similar to food that is homogenized, from concentrate, or frozen—food that contains genetically engineered ingredients should be labeled. Acting on the interests of consumers, some states have passed laws that will require such labels. Consumers are also increasingly concerned about the increased use of the herbicide glyphosate, which is associated with genetically engineered crops and was recently reclassified as "probably carcinogenic to humans" by the World Health Organization's cancer research arm.
We therefore urge you to ensure that the views of the vast majority of consumers are equitably represented in testimony before your committee. Thank you for your consideration of this request.
Sincerely,
Center for Food Safety
Consumer Federation of America
Consumers Union, the advocacy arm of Consumer Reports
Food & Water Watch
Organic Consumers Association
U.S. Public Interest Research Group