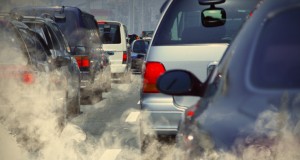 Monday, March 3, 2014
Consumers Union praises EPA's Tier 3 rules to reduce air pollution with cleaner gasoline, cleaner cars
WASHINGTON, D.C. – Consumers Union, the policy and advocacy arm of Consumer Reports, praised the Tier 3 rules announced today by the Environmental Protection Agency (EPA).  The rules would reduce air pollution by lowering the amount of sulfur in gasoline and cutting tailpipe emissions from vehicles.
George Slover, senior policy counsel for Consumers Union, said, "Millions of Americans struggle with health issues like asthma and other respiratory problems that come from breathing air that's heavy with smog and other pollutants.  These rules will reduce air pollution by promoting cleaner gasoline and cleaner cars, and as a consumer group, we think it's going to make a big difference for public health.  Low-sulfur gasoline will help automakers develop new technologies for more fuel-efficient cars and trucks, and when you add up the benefits for better health and better vehicles, we think it's a big win for consumers."
Low-sulfur gasoline would help clean up the exhaust of older vehicles and increase the lifespan of their emission systems. In new cars, it would improve reliability and lower the costs of maintaining the vehicle emissions systems.
EPA said the sulfur standards will cost less than a penny per gallon of gasoline on average once the standards are fully in place, and the vehicle standards will have an average cost of about $72 per vehicle in 2025.
Last year, Consumers Union collected more than 31,000 signatures from consumers in support of the Tier 3 rule.
***
Media contact: David Butler, dbutler@consumer.org