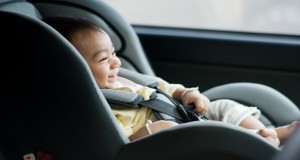 Wednesday, January 22, 2014
Consumers Union: NHTSA's proposed side-impact test for child car seats will make a real difference in saving lives, preventing injuries
WASHINGTON – The National Highway Traffic Safety Administration (NHTSA) today proposed a test for side crash protection in child safety seats.
Consumers Union, the advocacy arm of Consumer Reports, praised the NHTSA announcement, saying it would make a real difference in saving lives and preventing injuries of children.
Ami Gadhia, senior policy counsel for Consumers Union, said, "This test would mean, for the first time, all child safety seats have to meet a safety standard for protecting kids in side-impact crashes.  The test would help assure families that, whatever car seat they buy, it has met a minimum standard for safety in side crashes.  This raises the bar significantly for safer child seats."
Gadhia said, "Right now, most child-seat manufacturers make claims about side impact performance, but each manufacturer may measure that performance differently.  As consumers, we don't know what type of testing or features go into the manufacturers' claims. With this new standardized test, consumers will have a clear indication of how the car seat performed in side-impact crash tests."
The NHTSA proposal for side impact tests would apply to all car seats sold in the U.S. that are designed for children weighing up to 40 pounds. The agency estimated that the proposal would save five lives and prevent 64 injuries annually. NHTSA proposed a 3-year timeframe for manufacturers to make any changes needed to meet the proposed requirements upon final rule publication.
NHTSA said the proposed test would require the car seat to demonstrate it can safely restrain a child in a side-impact crash by preventing harmful head contact with an intruding vehicle door and reducing the crash forces transmitted to the child's head and chest.  The agency said this test is the first of its kind in the world being proposed for regulation.  NHTSA said the proposed test would use a newly developed side-impact dummy representing a 3-year-old child, as well as an existing 12-month-old child dummy.
***
Media contact: David Butler, dbutler@consumer.org, or Kara Kelber, kkelber@consumer.org, 202-462-6262