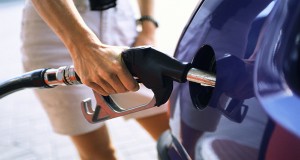 August 25, 2017
WASHINGTON – Savings from lower gas spending along with strong consumer interest in more efficient cars and trucks should lead the National Highway Traffic Safety Administration (NHTSA) to set higher fuel efficiency standards for model years 2022-2025, according to comments submitted today by Consumers Union, the policy and mobilization division of Consumer Reports. The comments were submitted in response to NHTSA's public request for factors they should consider in the agency's upcoming Environmental Impact Statement on the MY 2022-2025 fuel economy standards.
"New technology advancements that boost fuel efficiency open the door to lower costs and greater savings for consumers," said Shannon Baker-Branstetter, policy counsel for Consumers Union. "NHTSA should recognize the significant value to consumers and the economy of further strengthening automotive efficiency standards out to 2025."
The comments submitted today address the factors NHTSA should consider when setting fuel efficiency standards through model year 2025, including: consumer demand for more efficient vehicles, consumer and economic benefits of lower fuel spending, technology advancements that lower the costs of more efficient vehicles, and safety benefits associated with increasing efficiency even faster for light trucks than passenger cars.
Key highlights from the comments include:
Consumer surveys

show overwhelming support for increasing efficiency of all vehicles, including crossovers, SUVs and trucks

For the vast majority of car buyers who finance or lease a vehicle,

savings from lower fuel spending

would be realized in the first month of ownership.

Low and moderate income households would benefit more

with high efficiency vehicles as they spend more as a percentage of their income on fuel and as efficient new cars make their way to the used car market (which accounts for 70% of all cars sales annually).

Factors that NHTSA is statutorily required to consider suggest that efficiency standards should be set higher than previously suggested.

Safety considerations require that light-duty truck standards increase by at least as much as passenger car standards, and stronger truck standards can enhance both safety and fuel savings benefits.
"Automakers have gradually improved the efficiency and safety of vehicles over the past several years and have enjoyed record sales and high profits at the same time. Stalling or rolling back this progress would increase costs and reduce vehicle choices," said Baker-Branstetter "For the best interest of consumers, NHTSA should set higher fuel efficiency standards for both cars and trucks."
A full copy of the submitted comment is available HERE.