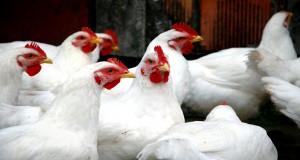 Consumer Reports tests finds salmonella outbreak strain in sample of foster farms raw chicken
Organization calls on Foster Farms to recall chicken from associated plants
YONKERS, (October 9, 2013) – As part of its ongoing testing program of the safety of meat and poultry in the food supply, Consumer Reports found a strain of Salmonella Heidelberg in a Foster Farms raw chicken sample that matched one of the strains associated with the current and major foodborne illness outbreak.
The outbreak is currently associated with Foster Farms raw chicken products from processing plants in California, according to the Centers for Disease Control and Prevention (CDC).  Consumer Reports' one sample, purchased in California in July 2013, came from Foster Farms plant P-6137A, one of the three plants connected to the outbreak.
While Consumer Reports does not typically report findings from an individual test, the connection of the sample to the current outbreak prompted the organization to make this information public.
Despite nearly 300 illnesses reported in 17 states and a continuing outbreak investigation, Foster Farms has not issued a recall.
"It is outrageous that Foster Farms has not issued a recall in the face of so many illnesses associated with their product. We are calling on Foster Farms and the retail outlets that sell Foster Farms to recall the chicken processed at these plants.  Foster Farms has a responsibility to public health to take this step," says Dr. Urvashi Rangan, toxicologist and Executive Director of the Consumer Reports Food Safety and Sustainability Center.
Companies have taken a far more proactive consumer stance and issued recalls for as few as 12 illnesses. In this case, the outbreak is of particular concern due to its reported severity, the fact that that the associated strains are resistant to multiple antibiotic drugs, and the length of time that the CDC has been tracking illnesses that are now linked to Foster Farms chicken."Telling consumers to cook their chicken thoroughly is simply inadequate and irresponsible. How many illnesses will they wait for before taking action?" adds Rangan.
What consumers can do…
Consumers who have purchased Foster Farms raw chicken should check their chicken package for the associated plant numbers, which are P-6137, P-6137A, and P-7632, which can be found on the package label.  Consumer Reports recommends that consumers who are shopping for Foster Farms chicken should avoid chicken from these plant numbers. Consumers who believe they have been sickened by eating contaminated chicken should contact their local health authorities and provide any available information about the chicken.  Consumer Reports also recommends that consumers who have purchased any samples from the problematic plant numbers should dispose of the chicken in order to protect themselves and their families.
And Consumer Reports offers the following advice for safer preparation and handling of poultry:
Buy poultry just before checking out, and place it in a plastic bag to prevent leaks.
If cooking poultry within a few days, store it at 40º F or below.  Otherwise, freeze it. (Note that freezing may not kill bacteria.)
When cooking poultry, use a meat thermometer to ensure it reaches the proper internal temperature of at least 165º F to kill potentially harmful bacteria.
Wash hands and all surfaces after handling poultry.
Don't return cooked meat to the plate that held it raw.
Refrigerate or freeze any leftovers within two hours of cooking.
What regulators should do…
United States Department of Agriculture (USDA) has oversight over meat and poultry production in the U.S., however they do not have authority to mandate a recall, except if a particular food is directly identified as making someone sick. To date, USDA has not requested a voluntary recall, and Consumers Union is calling on them to do so.
Consumers Union, the policy and action arm of Consumer Reports, believes that USDA should consider Foster Farms raw chicken products processed at the above-referenced plants as adulterated products based on the outbreak associated with them.
Consumers Union has urged USDA to classify strains of salmonella that have previously caused human illness, and that are also antibiotic resistant, to be treated as adulterants.
Consumer Reports is the world's largest independent product-testing organization. Using its more than 50 labs, auto test center, and survey research center, the nonprofit rates thousands of products and services annually. Founded in 1936, Consumer Reports has more than 8 million subscribers to its magazine, website and other publications.  Its advocacy division, Consumers Union, works for health reform, food and product safety, financial reform, and other consumer issues in Washington, D.C., the states, and in the marketplace.
Funding for this project was provided by The Pew Charitable Trusts. Any views expressed are those of Consumer Reports and its advocacy arm, Consumers Union, and do not necessarily reflect the views of The Pew Charitable Trusts.
#          #          #
CONTACTS:
Lauren Hackett, 914-378-2561, lhackett@consumer.org
Michael McCauley, 415-431-6747, ext 126, mmcauley@consumer.org