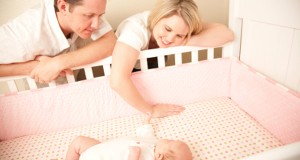 Consumers Union Urges Maryland to Maintain Ban on Crib Bumpers
WASHINGTON, DC – In testimony before the Maryland Senate Finance Committee, Consumers Union – the policy arm of Consumer Reports – urged state legislators to maintain the state's planned ban on the sale of crib bumpers. The Committee is considering legislation that would allow the sale of crib bumpers meeting a certain thickness requirement.
"There is simply no evidence that even 'traditional' crib bumpers would provide any benefit to counter the dangers that these products pose to children," said Ami Gadhia, senior policy counsel for Consumers Union, who will testify at the hearing. "If Maryland were to adopt the industry-proposed standard, it would give parents a false sense of security and would not truly address the suffocation hazards posed by crib bumpers."
The Juvenile Products Manufacturers Association (JPMA), an industry trade group, sought to create a construct for crib bumper thickness through ASTM International, a voluntary standard-setting body, limiting crib bumper thickness to 2". The group asserts that that requirement would ban softer, pillow-like bumpers and permit only what they refer to as "traditional" bumpers.
However, Consumers Union contends that the suffocation risks posed by crib bumpers far outweigh any benefits and that bumpers have no place in a baby's crib. In fact, crib bumpers were featured in Consumer Reports' June 2012 ShopSmart list of "13 Dangerous Baby Products to Avoid."
In November the Maryland Department of Health and Mental Hygiene announced a ban on the sale of crib bumper pads, effective June 21, 2013. The decision followed a more than year-long investigation by the Maryland Department examining the safety of crib bumper pads, concluding that the risks crib bumper pads pose towards infants far outweigh any potential benefits.
Gadhia said, "We respectfully urge state lawmakers to vote no on this bill and to allow the regulation banning crib bumpers to proceed as planned this June."
###