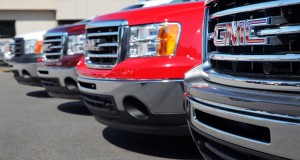 Critical Tech Helps Protect Children from Backovers
WASHINGTON, D.C. (May 1, 2018) — Consumers Union, the advocacy division of Consumer Reports, today celebrated the full implementation of a safety requirement for new cars to prevent tragic backover incidents that can kill or seriously injure young children.
As of today, all new passenger cars, SUVs, and pickup trucks rolling off the assembly line are required to meet strong rear-visibility standards. As the requirement has been phased in, more and more cars have been coming equipped with rearview cameras that provide drivers a 10-foot-by-20-foot zone of visibility behind their vehicle.
David Friedman, Director of Cars and Product Policy and Analysis for Consumers Union, said, "Today marks a critical milestone in children's safety. Rearview cameras help prevent deaths and injuries by ensuring that drivers can see who may be behind them in their car's blind spots. Anyone who buys a new car manufactured from now on will have this critical safety technology, making our driveways, parking lots, and streets safer for everyone.
"This critical technology had to travel a long road leading to today. That road included far too many tragedies and opponents, and work by far too many people and organizations to name. Our thanks go out to each and every one of those who made this possible, and our hearts go out to all the families who have suffered the loss or injury of a child from a tragic backover incident."
Consumers Union strongly supported passage of the federal law requiring the rear visibility rule in 2008, and joined with other auto safety advocates in 2013 to sue the U.S. Department of Transportation (DOT), which ultimately helped force the government to issue the rule. At the time the rule was finally issued in 2014, DOT's National Highway Traffic Safety Administration estimated that 210 people were killed and another 15,000 were injured every year, on average, by cars backing into them—with many of those killed being children under the age of 5 that were not visible to drivers, even with the use of all three mirrors. Often, those driving were the parents, caregivers, and loved ones of those harmed, further compounding the tragedy.
***
Contact: David Butler, dbutler@consumer.org, 202-462-6262, ext. 7416
Consumer Reports is the world's largest independent product-testing organization. Using its more than 50 labs, auto test center, and survey research center, the nonprofit rates thousands of products and services annually. Consumers Union works for health reform, food and product safety, financial reform, and other consumer issues in Washington, D.C., the states, and in the marketplace.