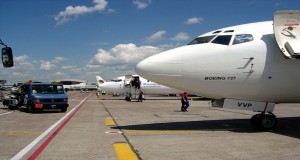 November 10, 2015
Washington, D.C. — Consumers Union, the public policy and advocacy arm of Consumer Reports, today expressed support for the U.S. Department of Justice's antitrust enforcement action filed against United Continental Holdings and Delta Air Lines to stop them from increasing United's monopoly hold on Newark Liberty International Airport in New Jersey.
George Slover, senior policy counsel for Consumers Union, said, "This enforcement action highlights the harm that airline mergers and increased market concentration are doing to consumers. This concentration makes it too easy for airlines to restrict consumer choice and jack up fares."
United already controls 73 percent of the slots at Newark, according to DOJ, and the proposed transfer of slots from Delta would add to that. DOJ said United grounds, or keeps idle, up to 82 of its existing slots each day, instead of using them — or allowing other airlines to use them — to offer consumers more options.
In addition to supporting this enforcement action, Consumers Union has called on the U.S. Department of Transportation to reform its airport slot allocation rules at Newark and two other crowded New York-area facilities, LaGuardia Airport and Kennedy International Airport, in order to open them up to more competition from lower-cost airlines and offer more choices for consumers.
###
CONTACT: David Butler, dbutler@consumer.org, 202-462-6262