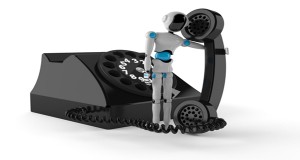 Thursday, June 18, 2015
WASHINGTON, D.C. – Consumers Union, the policy and advocacy arm of Consumer Reports, today celebrated two victories at the Federal Communications Commission.  The agency voted to crack down on robocalls and encourage phone companies to provide tools for blocking unwanted calls.  The FCC also voted to move forward on a proposal to modernize its Lifeline program to make broadband Internet more affordable and accessible to low-income consumers.
Commissioners approved an order aimed at unwanted robocalls, robotexts, and telemarketing calls – the agency's number-one source of consumer complaints.
FCC Chairman Tom Wheeler said the Commission is "giving the green light for robocall-blocking technology."  He affirmed that phone companies can – and should – offer consumers robocall-blocking tools.  The FCC action tightens rules, closes loopholes and makes it easier for consumers to say "no" to unwanted calls and texts.
In the past, some phone companies have resisted requests from consumers to provide call-blocking tools, maintaining they did not have the legal authority to do so. Today's action makes it clear that companies can offer this technology without violating FCC rules.
Earlier this year, Consumers Union launched the End Robocalls campaign to call on the major phone companies to provide free, effective tools to block unwanted calls.  Over 330,000 consumers have signed Consumers Union's petition to the carriers.  The petition and information to help consumers protect themselves can be found at EndRobocalls.org.
"Americans have had enough with robocalls that ring off the hook all day long, and often target them with the latest scams," said Tim Marvin, Consumers Union's End Robocalls campaign manager.  "Today's FCC vote means the phone companies should stop stalling and start providing their customers with free tools to block these calls."
More than 217 million phone numbers have been registered on the Federal Trade Commission's "Do Not Call" list.  But scam artists ignore the lists and use the latest technology to hammer people with calls day and night.  Telephone scams cost consumers an estimated $350 million in financial losses annually.
In a separate action today, the FCC voted to open a proceeding on a proposal to modernize and reform its Lifeline program.  Lifeline currently helps low-income consumers afford phone service with a $9.25 monthly credit.  Under the FCC's plan, eligible consumers could apply this credit to either broadband Internet access or phone service.  The plan would also strengthen oversight and administration of Lifeline, and take additional measures to eliminate waste, fraud, and abuse.
Consumers Union is a strong supporter of Lifeline because it helps extend the benefits of vital communications services to consumers in need.
Delara Derakhshani, policy counsel for Consumers Union, said, "The FCC is taking important steps to restructure Lifeline and connect more Americans to broadband.   People need broadband more than ever to find a job, keep a job, stay informed, and manage their day-to-day lives.  Yet we still have a serious gap where millions of Americans don't have access to affordable broadband.  The FCC's plan will help close the broadband gap and make Lifeline more relevant and impactful for a lot more people."
***
Contact:  David Butler, dbutler@consumer.org or Kara Kelber, kkelber@consumer.org, 202-462-6262 or Michael McCauley, mmccauley@consumer.org, 415-902-9537 (cell)