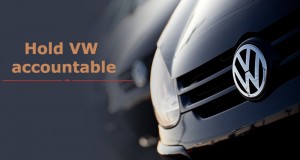 WASHINGTON, D.C. – Consumers Union, the policy and mobilization arm of Consumer Reports, today applauded the settlement package announced by the Department of Justice (DOJ), Environmental Protection Agency (EPA) and the Federal Trade Commission (FTC) to address Volkswagen intentionally installing software to circumvent the emissions control system in some nearly 500,000 2.0-liter diesel vehicles sold in the U.S and evade emissions standards.
"Today's agreement forces Volkswagen to make consumers whole, after having ripped them off. We're pleased that VW owners and lessees have the option to choose what to do with their faulty cars, and get significant cash compensation regardless of their choice," said William Wallace, policy analyst for Consumers Union. "We applaud regulators for their work to ensure that the settlement also addresses the environmental and air quality impacts of these faulty vehicles. This unprecedented settlement – the largest in automotive history – and forthcoming civil and criminal penalties should send a strong message to deter companies who look to boost their bottom lines by conning consumers and lying to the government.
"We appreciate the opportunity to comment on the consent decree. We will be watching closely to make sure that VW follows through on its commitments to both consumers and the environment, that separate settlements are reached for cars that are not part of today's announcement, and that the government's penalties for VW's deceit are substantial," said Wallace.
***
Contact: Kara Kelber, kara.kelber@consumer.org, 202-462-6262
Consumers Union is the policy and mobilization arm of Consumer Reports.  Consumers Union works for health reform, food and product safety, financial reform, and other consumer issues in Washington, D.C., the states, and in the marketplace. Consumer Reports is the world's largest independent product-testing organization.  Using its more than 50 labs, auto test center, and survey research center, the nonprofit rates thousands of products and services annually.  Founded in 1936, Consumer Reports has over 8 million subscribers to its magazine, website, and other publications.