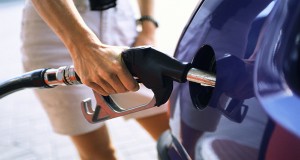 September 13, 2013
Consumer protection bill headed to Governor's desk
Bill cracks down on gas price manipulation, increases transparency; Diverse coalition urges Gov. Brown to sign
SACRAMENTO, Calif. – Sept. 13, 2013 – Just before midnight last night, the California Legislature passed legislation aimed at protecting consumers from erratic price spikes at the pump. The bill now heads to the governor's desk for signature.
Senate Bill 448 (Leno) sets in motion a new effort at the California Energy Commission focused on detecting and detouring fuel price manipulation by big oil companies. Focused on consumer protection, a new expert market advisory committee on transportation fuels will advise the state on whether fuel prices are impacted by illegal activity. The bill also requires the state to develop recommendations to reduce California's fuel price volatility associated with fuel producer market power.
"I thank the Legislature for passing SB 448, which addresses the unpredictable and inexplicable pain at the gas pump Californians have suffered in recent years," said Senator Mark Leno, D-San Francisco."Unstable and erratic fuel prices impact our economy, small businesses and the pocketbooks of most middle- and low-income families, who are already struggling to make ends meet. If signed into law, this proposal would create a transparent process for the investigation of possible cases of price manipulation while protecting our state's consumers against price volatility."
"Volatile gasoline prices wreak havoc on consumers' pocketbooks and make it very difficult to budget for monthly expenses," saidShannon Baker-Branstetter, Policy Counsel of Consumers Union. "Gov. Brown has the opportunity to increase transparency by providing additional resources to protect California consumers."
Just a year ago, gas prices rose to more than $5 per gallon throughout the Golden State, due to volatility experts say may have been due to price manipulation. While Californians emptied their wallets during travel seasons, fuel producers blamed unexpected slowdowns at refineries for the inflated prices. But an independent analysis showed otherwise. McCullough Research, an independent energy consulting firm, found there was an increase of gasoline inventory – meaning other market forces, and possibly withholding of supply, were likely intervening.
"This bill is aimed at protecting California consumers and environmental regulations that, for too long, have been at the mercy of a few companies that control nearly all the transportation fuel market," said Tim O'Connor, California Climate Initiative Director for the Environmental Defense Fund. "The governor's signature would confirm his ongoing commitment to California's clean energy leadership and the development of clean fuels."
"We've proudly supported SB 448 because it establishes new protections for California's environment, refinery workers and consumers at large," said Dina Biscotti, California Policy Organizer with the BlueGreen Alliance.
The Stop Fooling CA campaign joins numerous other consumer, industry and environmental groups in supporting this bill and urging the governor's signature, including the Greenlining Institute, Consumer Federation of America, Consumers Union, Sierra Club, the Environmental Defense Fund, and the United Steel Workers Union.
About Stop Fooling California: StopFoolingCA (www.stopfoolingca.org) is an online and social media public education and awareness campaign that highlights oil companies' efforts to mislead and confuse Californians.
###
CONTACT: Eric Jaffe, 415.397.5000 x311, ejaffe@resource-media.org