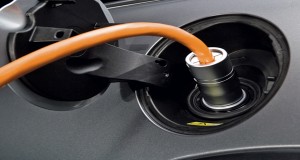 August 4, 2016
WASHINGTON –– Car sharing services are gaining in popularity across the U.S., making it easier for city residents to go car free, but a new service in Indianapolis is taking it to the next level. The BlueIndy program is the first in the nation to offer a service with an all-electric fleet. In a new video, released today, Consumer Reports takes a closer look at the BlueIndy program and the city's move to expand electric vehicles throughout its municipal fleet.
"The city that is famous for auto racing is taking major steps to encourage car sharing that is gas-free," said Shannon Baker-Branstetter, energy policy counsel for Consumers Union, the policy and advocacy division of Consumer Reports.
Indianapolis is making big strides in reducing fuel consumption. Along with the BlueIndy program, the City is also in the process of converting their non-emergency fleet vehicles to electric and hybrid vehicles. Together, these investments are expected to save the City and its residents as much as 500,000 gallons of gas per year.
"Transportation is the last discipline where oil is used at the level it is," said former Indianapolis Mayor Greg Ballard, who led the effort to expand electric vehicle programs throughout the city. "If we tamp that down to a certain level, we change the world."
The BlueIndy program is gaining a popular following, with over 2,100 residents signing up as subscribers. BlueIndy currently has a fleet of over 250 vehicles with a goal of expanding to 500.
Indianapolis is not alone in seeing the value of electric vehicles. Los Angeles also expects to launch an EV car sharing program and recently announced that the deployment of over 100 electric vehicles in the city's non-emergency police fleet.  Other cities, like Atlanta, Houston and New York are moving to incorporate electric and hybrid vehicles to their city fleets as well.
The expansion of these programs come as electric cars are gaining in popularity. Sales of EVs in the U.S. have gone from approximately 50,000 in 2012 to over 115,000 in 2015 and EV sales for 2016 are on track to beat last year's levels.  According to a recent survey by Consumers Union and the Union of Concerned Scientists, over one-third of residents in the Northeast would consider an EV as their next vehicle. In California, the interest is even higher with more than half considering an EV as their next vehicle.
The White House recently announced a public-private partnership to build EV infrastructure across the United States, including a $4.5 billion loan program to incentivize companies to build charging facilities.  The initiative also spearheads  the creation of alternative fuel and zero emissions corridors, coordinates greater innovation for fast charging technologies, builds partnerships across federal, state and local governments to expand their EV fleets,, and brings together  researchers and businesses from across the U.S. to further improve battery technology.
"More and more Americans are starting to explore whether electric vehicles are right for them," said Baker-Branstetter.  "Programs like BlueIndy and greater EV fleet adoption are good examples of how cities can give consumers more experience with the technology while at the same time slashing fuel consumption, saving taxpayer dollars on fuel costs, and improving air quality."
——————-
Contact: Jason Kuruvilla, Jason.kuruvilla@consumer.org, 202-462-6262
Consumers Union is the public policy and advocacy division of Consumer Reports.  Consumers Union works for health reform, food and product safety, financial reform, and other consumer issues in Washington, D.C., the states, and in the marketplace. Consumer Reports is the world's largest independent product-testing organization.  Using its more than 50 labs, auto test center, and survey research center, the nonprofit rates thousands of products and services annually.  Founded in 1936, Consumer Reports has over 8 million subscribers to its magazine, website, and other publications.