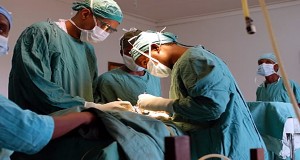 Tuesday, October 29, 2013
 Consumers Union To Hold "Ending Medical Harm" Conference at Columbia University On November 6th 
Conference To Focus on Tackling The 3rd Leading Cause of Death in the U.S. 
New York, NY —  Consumers Union, the policy and advocacy division of Consumer Reports, will mark the tenth anniversary of its Safe Patient Project at the upcoming "Ending Medical Harm" conference at Columbia University in New York City on November 6.  The conference will feature a series of panel discussions on the urgent need for hospitals to do more to prevent medical errors and hospital acquired infections, recently estimated to represent the third leading cause of death in the United States.
"Every year, hundreds of thousands of Americans die needlessly from preventable medical errors and hospital acquired infections," said Lisa McGiffert, manager of Consumers Union's Safe Patient Project (www.safepatientproject.org).  "Given the number of lives at stake, the U.S. should be treating patient safety as a national emergency and mounting a much more aggressive campaign to end medical harm."
The "Ending Medical Harm" conference will take place between 10am and 3pm on the 6th and feature a number of speakers, including patient safety experts from Consumers Union and Consumer Reports; journalists whose investigative reporting has shed light on the scope of the problem; and patients harmed by infections, medical errors, and unsafe medical implants who have become leading advocates for safer care.
At 3:30pm, conference attendees will gather at nearby St. Luke's HospitalCenter (corner of W. 114th  St. and Amsterdam Ave.) for a demonstration on the need for improved hospital safety.  For a complete list of speakers and schedule, see the conference agenda.
Estimates vary on the number of people who die from hospital-acquired infections and medical errors every year but the death toll is undeniably very steep.  A November 2010 study by the U.S. Department of Health & Human Services (HHS) found that hospital infections and medical errors involving Medicare patients contribute to approximately 180,000 deaths and 1.4 million serious injuries each year.
Since the HHS study covered only Medicare patients, the overall death toll and number of injuries from medical errors and hospital infections is much higher.  A recent analysis published by the Journal of Patient Safety by John T. James, founder of Patient Safety America and a member of Consumers Union network of advocates, concluded that as many as 440,000 Americans die each year as a result of preventable harm while hospitalized.  James will be a featured speaker at the Ending Medical Harm conference.
"In 1999, the Institute of Medicine estimated that 98,000 Americans died from medical harm every year – a statistic that shocked the nation," said McGiffert.  "It is a disgrace that those numbers have grown, today representing the third leading cause of death in America.  That's the equivalent of more than two jumbo jets full of passengers crashing every day."
Hospital infections and medical errors add billions of dollars to medical bills every year since they often result in longer hospital stays and additional surgeries and treatments.  The CDC estimates that hospital infections alone cost the U.S. healthcare system $45 billion annually.
Since 2003, Consumers Union's Safe Patient Project has advocated for and helped pass laws in 31 states and the District of Columbia requiring hospitals to publicly disclose their patient infection rates.  Hospital infection reporting laws have increased public awareness of patient infections and stimulated prevention efforts in hospitals.
Consumers Union's multi-year campaign helped lead to hospital infection reporting on the national level.   Most hospitals across the country now report certain infection rates to the Centers for Disease Control and Prevention in exchange for financial incentives provided by Medicare.
Consumers Union also has pushed for public reporting of medical errors.  Twenty-six states require hospitals to report medical errors, but less than half disclose hospital-specific information.  Most states with reporting laws require hospitals to disclose errors that appear on the National Quality Forum's "never event" list, which include 28 errors that experts agree can be prevented and should never happen.  Beyond pushing for public disclosure, Consumers Union has urged hospitals to adopt strategies that have been proven to prevent hospital infections and medical errors.
The conference will also feature discussions about the safety of medical implants.  Over the past two years, the Safe Patient Project has advocated for improved safety testing of new implants and more rigorous tracking of complications once devices are on the market.
"Patients trust that someone is reviewing all medical implants for safety and effectiveness before they are allowed to be used, but that is just not happening," said McGiffert.  "We need to strengthen our system of oversight and manufacturers should be willing to stand by their products with a warranty."
Consumer Reports also addresses the issue of hospital safety.  For example, the Consumer Reports Surgery Ratings look at how patients fare before and after surgery and  are based on the percentage of a hospital's Medicare patients who die in the hospital or stayed longer than expected for the procedure.  The Ratings include an overall Surgery Rating, which combines results for 27 categories of scheduled surgeries, as well as individual Ratings for five specific procedure types:  back surgery, hip replacement, knee replacement, angioplasty, and carotid artery surgery.  Consumer Reports' Surgery Ratings are based on an analysis of billing claims that hospitals submitted to Medicare for patients 65 and older, from 2009 through 2011, and cover 2,463 hospitals in all 50 states, Washington, D.C., and Puerto Rico.  For more information, see Consumer Reports Ratings.  John Santa, M.D., M.P.H., Medical Director of Consumer Reports Health, will speak at the Ending Medical Harm conference.
###
Contact:  Michael McCauley, mmccauley@consumer.org or 415-902-9537 (cell) or Ross Moonie, rmoonie@gmail.com or 917-690-5713 or Joe Duraes, joeduraes@optonline.net or 914-293-0100