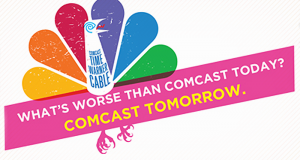 On Feb. 26, 2015, the Federal Communications Commission adopted new rules on net neutrality. Some business analysts have said that these rules might help ease the way for the approval of the Comcast/Time Warner Cable mega merger.
"The FCC's push to guarantee everyone equal access to broadband may give regulators political cover to approve a deal while limiting Comcast's broader power on the Internet. The proposed rules should alleviate concerns that Comcast will block or slow competing content providers' access to the Internet, analysts say."
— Bloomberg Business.
Here is why the net neutrality rules should have no bearing on the FCC's and DOJ's review of the proposed Comcast-Time Warner Cable merger:
Net Neutrality rules can't fully prevent Mega Comcast's violations of an Open Internet. Net neutrality rules are designed for ISPs in general. The rules don't contemplate a Mega Comcast dominating over half of the broadband market and controlling vast amounts of content. The rules simply cannot contemplate the dozens of ways Mega Comcast would still be able to use its market power to impose complex contracts and commercial processes that have the effect of discriminating against competitors and violating the spirit of an Open Internet. And even if Mega Comcast were called out for violating the rules, its vast legal and lobbying power would ensure that complaints take years to litigate before any enforcement action can be taken.
The harms posed by this transaction go far beyond broadband. The FCC's rules apply to broadband, and primarily focus on the "last mile" into consumers' homes. They do nothing to prevent Mega Comcast from using its increased dominance of cable television, local spot market advertising, the set-top box, regional sports, the Hispanic program market, etc., to discriminate against competitors, raise prices, neglect and cut corners on customer service, and stifle innovation and choice.
The future of net neutrality is uncertain. The FCC rules will be litigated for years to come and might wind up being upheld, but could be dramatically altered, or thrown out altogether. The FCC will need to rule on the Mega Comcast merger long before that process is complete.
The Stop Mega Comcast Coalition urges the DOJ and FCC to reject the Comcast/Time Warner Cable merger in the interest of sustaining a vibrant and diverse cable-and-broadband marketplace.
Mega Comcast by the Numbers:
Over 1 year since the merger was announced
680,000 consumers against the merger
54% of high speed broadband connections would be controlled by Mega Comcast
29 members of the Stop Mega Comcast Coalition
0 public interest benefits