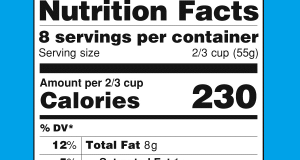 Consumers Union, the policy and mobilization arm of Consumer Reports, welcomes the opportunity to comment on the proposed rule by the U.S. Department of Agriculture (USDA) Food Safety and Inspection Service (FSIS) to amend the nutrition labeling requirements for meat and poultry products. We strongly support the proposed revisions—which mirror recent changes being implemented by the Food and Drug Administration (FDA) for other types of food—and urge FSIS to finalize them without delay.
The purpose of nutrition labeling is to help consumers make more informed choices about the food they might buy, and to aid consumers in making choices that support a healthy lifestyle. For this labeling to be effective, it needs to be accurate, informative, and readily understood by consumers, and it also should devote appropriate emphasis to those factors that are most important to public health. In the case of meat and poultry products, the responsibility for effective nutrition labeling falls to FSIS. We support the agency's proposed changes because the revised labels would more clearly communicate nutrition information, and better reflect the most recent scientific research and dietary recommendations.
For the full comments, click here.