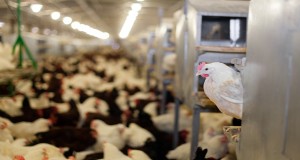 Consumers Union, the policy division of Consumer Reports, welcomes the opportunity to submit comments to the U.S. Department of Agriculture (USDA) Food Safety and Inspection Service (FSIS) on the revised compliance guideline for label approval.
Food labels, which represent an area of particular focus for Consumer Reports and Consumers Union, should be clear, honest, transparent, and meet consumer expectations. In the revised guideline for label approval, many labeling claims are listed as "special statements and claims" that require approval by FSIS before entering commerce. We agree that animal production claims (e.g., no added antibiotics, no hormones added, vegetarian fed), animal raising claims (e.g., cage-free, free range, farm raised, pasture raised) and sustainability claims (e.g., environmentally raised, sustainable, sustainably raised) are special statements and claims that require approval. However, the current FSIS standards for these claims are not strong enough to ensure that they meet consumer expectations and do not adequately protect consumers from being misled by these types of claims.
We urge FSIS to take additional steps to strengthen the label approval process, especially to confirm that these types of special statements and claims on meat and poultry products are truthful and not misleading to consumers.
For the full comments, click here.