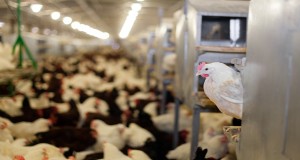 Consumers Union (CU), the policy and advocacy arm of Consumer Reports, is pleased to submit these comments on the U.S. Department of Agriculture (USDA) Food Safety Inspection Service's (FSIS) decision to discontinue its qualitative test (30 mL) of young chicken products for Campylobacter.
We commend FSIS for recognizing that the high incidence of Campylobacter on poultry products poses an important food safety risk to U.S. consumers and for instituting testing to assess the levels of Campylobacter harbored by poultry processed in slaughter establishments and to develop pathogen reduction performance standards to indicate substandard process control at these processing facilities.
However, we are concerned that although past FSIS Campylobacter inspection included both quantitative (1 mL) direct-plating and qualitative (30 mL) enrichment tests, the qualitative testing has been suspended since June 2013.  We feel that this suspension and the planned discontinuation of the qualitative test has and will put consumers at unnecessary risk by allowing Campylobacter-positive young chickens to go undetected during inspections.
For the full comments, click here.