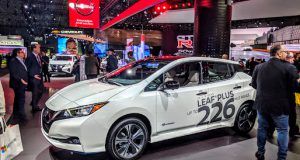 Consumers would benefit from more electric vehicle options — not just small cars and hatchbacks but pickups, SUVs and especially crossovers — a segment of the vehicle market that's been growing by double digits since 2015. For this reason, Consumer Reports called on automakers just a few months ago to electrify more crossovers and SUVs.
We are now beginning to see a change, as many of the electric vehicles expected to come to market in 2019 and 2020 in the U.S. are SUVs and crossovers. We are also seeing this shift at automotive shows across the country. On the Mercedes-Benz stage at the New York International Auto Show (NYIAS), for instance, one of the three new SUVs on display is the "EQC," the German automaker's first all-electric vehicle for America.
Also at the NYIAS at the Javits Center, Jaguar's all-electric crossover called the I-Pace took home the World Car Award for not only 'Best Green Car' but 'Best Overall Car.' It's the first time an electric vehicle has won the annual award. The vehicle that came in second place this year is also an all-electric SUV, Audi's E-Tron.
New technologies make electric vehicles cheaper to fuel than your typical car, better for the environment, and more convenient because you can fuel them up at home and avoid stopping at a gas station. Instead, you can wake up every morning to a fully-charged vehicle, at about a third the cost, or better in some cases. And many new electric vehicles can travel well over 200 miles on a single charge.
FACT: People who consider themselves knowledgeable about Electric Vehicles (EVs) are much more likely to be interested in buying one.

Among survey respondents who consider themselves very knowledgeable about electric vehicles, 55 percent were interested in buying an EV, according to a

 

2016 Consumer Federation of America survey.

Among those who said they had no knowledge of EVs, only 22 percent were interested in buying one. 

A new

automaker-funded study

released Thursday found that about 60 percent of people who live in the Northeast say their household is more likely to consider an electric vehicle today compared to just a year ago.
A total of 40 electric vehicles are on display at the NYIAS this year, many of which are crossovers and SUVs. A startup company called Rivian is showing off their all-electric SUV and pickup, in addition to the battery-powered chassis (right photo, below) that reportedly can send these vehicles from 0 to 60 miles per hour in just 3 seconds!
Several other crossovers and SUVs newly unveiled at the New York City show include a plug-in hybrid version, giving consumers more options about the kinds of vehicles they want to drive. Among them, the large new Lincoln Corsair, the new Ford Escape, and the new Toyota Highlander. However, it's not yet clear where or when these plug-in hybrid versions will be available.
Other electric vehicle crossovers on display at the show this year include the Hyundai Kona EV (pictured below), and the slightly-smaller all-electric hatchbacks, the Chevy Bolt and the Nissan Leaf.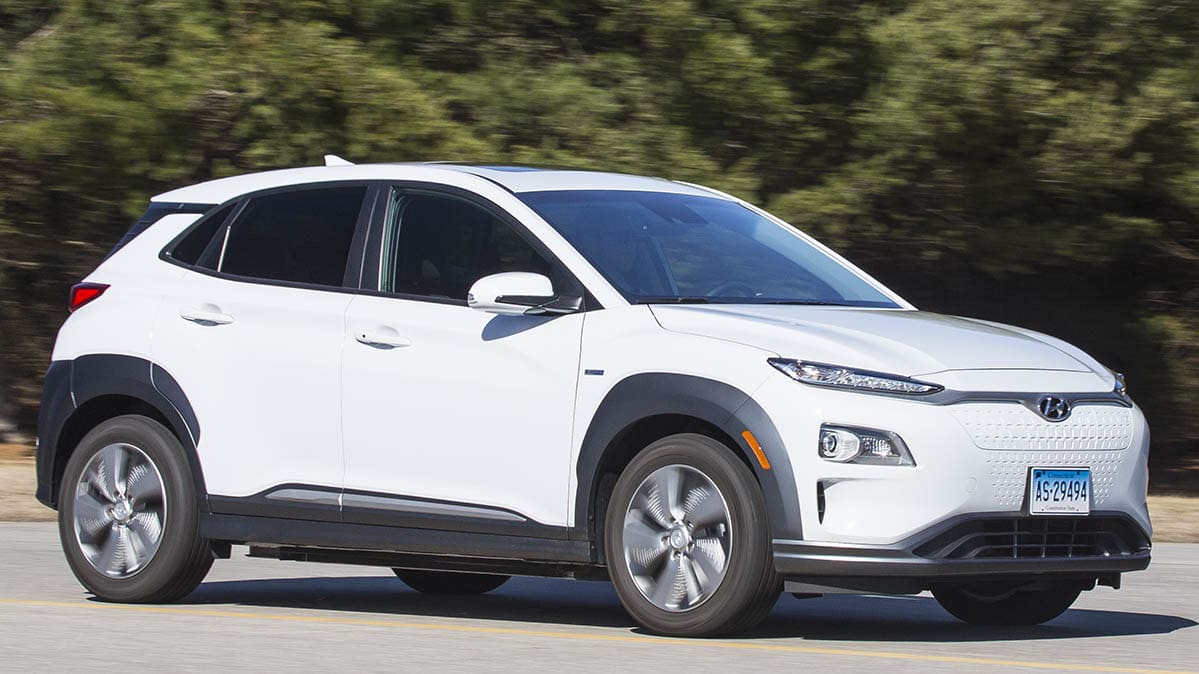 Vehicles are now the leading cause of greenhouse gas pollution in the United States. Transitioning to environmentally-friendly and economically-logical transportation requires smart public policy. That's why Consumer Reports supports an extension of federal electric vehicle tax credits, and strong, pro-consumer fuel economy standards to save consumers money, reduce pollution, and increase consumer choice.
Click HERE to see more car coverage by Consumer Reports of NYIAS 2019.
Media Contact: Adam Winer, Adam.Winer@Consumer.org, 202-462-6262 x7444