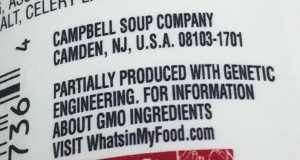 July 1, 2016
U.S. Senate
Washington, D.C. 20510
Dear Senator:
Consumers Union, the policy and mobilization arm of Consumer Reports, writes regarding S. 764, which includes a bill by Senator Roberts and Senator Stabenow related to the disclosure of genetically engineered (GE) food.  This bill would immediately preempt state laws requiring clear, on-package labeling of GE food, replacing them two or more years from now with an ineffective federal standard to be set by the U.S. Department of Agriculture (USDA) that omits many GE products from its purview.  We have several major concerns with the bill, and urge you to oppose S. 764.
First, S. 764 undermines GE labeling occurring in the marketplace.  Labels marking products with GE ingredients are already appearing on store shelves across the country, in compliance with duly enacted state labeling requirements.  S. 764 would disregard citizens' wishes by invalidating laws in states including Vermont, Alaska, Connecticut, and Maine, and produce a legal vacuum for at least two years while USDA writes federal rules.
Second, S. 764 excludes many GE food products from the bill's requirements.  The bill's definition of "bioengineered" specifies that the bill applies to food "that contains genetic material that has been modified" through in vitro rDNA techniques.  This would likely leave out many highly processed foods from GE sources without detectable genetic material, such as refined sugars, high-fructose corn syrup, oils, or proteins from GE plants.  Moreover, the definition would cover only food that "could not otherwise be obtained through conventional breeding or found in nature," which may be difficult to demonstrate for current GE products, if read literally, since the two main traits – resistance to the herbicide glyphosate and resistance to insect pests – involve moving genes from bacteria found in nature into food plants.  The Food and Drug Administration (FDA) agrees with this interpretation in technical assistance comments sent to the bill's sponsors.[1]
There are other significant problems with the bill's coverage.  For example, the bill specifically exempts any food where meat is the main ingredient, even if the food product contains other ingredients that are genetically engineered.  The bill also empowers USDA to set a threshold for the percentage of GE ingredients that must be present in a food to trigger labeling.  If this level is set too high, this provision could exclude additional GE-containing products.
Third, S. 764 allows companies to employ methods of disclosure that are difficult to use, and are not available to all consumers.  In particular, scanning a QR code may not be feasible for numerous consumers who are unfamiliar with the technology or who lack a smartphone, as three out of four older Americans and about half of rural residents do.[2]  As QR codes are already used for many purposes on packages, their presence is not a flag – it does not constitute a de facto indication that a product contains GMOs.
Consumers express a clear preference for labels visible to the naked eye.  Nearly nine out of ten in a recent survey favored printed, on-package information over scannable bar codes for labels indicating whether food at the grocery store contains GE ingredients, and only 8% preferred the scannable code.[3]  Other methods in the legislation that do not involve scannable codes would be significantly more difficult for consumers to use.  Navigating a corporate website or dialing a customer call center would each require consumers to go through a multi-step process simply to determine if a food contains GE ingredients.
While Consumers Union agrees with the goal of establishing a uniform national standard for disclosure of GE food ingredients, this bill does not accomplish that goal.  In fact, it does the opposite – prohibiting states from exercising their rights to protect consumers through labels while failing to create a credible federal labeling requirement.  Instead, the Senate should take up S. 2621, the Biotechnology Food Labeling Uniformity Act, introduced by Senator Merkley.  This bill would provide consumers with clear and straightforward information, while giving food companies the certainty of a national standard and the flexibility to choose from one of several different types of back-of-the-package labeling.
Consumers have overwhelmingly said that they want GE food to be labeled as such, and states have responded to their requests.  The Senate should not disregard these views by eliminating state laws relating to GE food labeling and failing to replace them with a meaningful national standard for mandatory, on-package labeling.  We therefore urge you to vote no on S. 764, and instead encourage you to continue working toward a uniform solution that serves the interests of both food producers and consumers.
Sincerely,
Jean Halloran
Director, Food Policy Initiatives
Consumers Union
[1]  Food and Drug Administration, as obtained by Center for Food Safety. "FDA/HHS Technical Assistance on Senate Agriculture Committee draft legislation to establish a national disclosure standard for bioengineered foods" (June 27, 2016) (online at www.centerforfoodsafety.org/files/fda-to-senate-ag-on-draft-legislation_29928.pdf).
[2]  Pew Research Center, "The Smartphone Difference" (April 2015) (online at www.pewinternet.org/2015/04/01/us-smartphone-use-in-2015).
[3]  Consumers Union, "New Poll: Nearly 9 in 10 Americans Want Labels on GMO Food" (Dec. 2, 2015) (online at consumersunion.org/news/new-poll-nearly-nine-in-10-americans-want-labels-on-gmo-food).