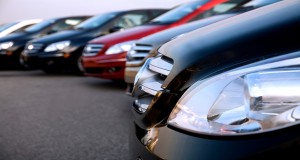 October 17, 2014
Docket Management Facility
U.S. Department of Transportation
1200 New Jersey Ave. SE
West Building Ground Floor, Room W12-140
Washington, DC  20590
Comments of Consumers Union and Center for Auto Safety to
The National Highway Traffic Safety Administration on
Federal Motor Vehicle Safety Standards for
Vehicle-to-Vehicle (V2V) Communications
Docket No. NHTSA-2014-0022
Introduction
Consumers Union, the public policy and advocacy division of Consumer Reports, and the Center for Auto Safety, respectfully submit the following comments to the National Highway Traffic Safety Administration (NHTSA) in the above-referenced advance notice of proposed rulemaking.  We support the continuation of this initiative, and look forward to working with NHTSA to help explore the traffic safety benefits that this new technological capability could provide.
Since its founding in 1936, Consumer Reports has been testing and reporting on automobiles, and safety has always been a primary focus.  The Center for Auto Safety was founded in 1970 to further advance efforts to improve the safety of automobiles.  We have been among the leading supporters of advances in car safety over the years, and we support consideration of potential new advances.
As Consumer Reports has previously reported, we have been following the progress of NHTSA's consideration of vehicle-to-vehicle communications (V2V) technology with great interest.  This technology has potential to significantly improve traffic safety by giving drivers an early warning of yet-unseen crash hazards posed by other vehicles.  More broadly, vehicle-to-infrastructure (V2I) and vehicle-to-pedestrian (V2P) technology – collectively, V2X – could enable drivers to obtain advance warning of other potential road hazards, and could improve pedestrian and cyclist safety as well.
As NHTSA recognizes, there are significant challenges in developing and implementing effective and reliable V2X communications systems, and in taking them from the closed testing environment to the open road.  These include technological challenges, such as message congestion and gaps in GPS coverage; security challenges, such as vulnerability to hacking; and potential privacy issues, if every car's location is subject to constant monitoring.  And there are fundamental driver behavioral challenges – among them, we believe, based on experience at the Consumer Reports Auto Test Center with current advanced safety systems, significant potential difficulties in how drivers will manage multiple additional warnings.
For the complete comments, click here.