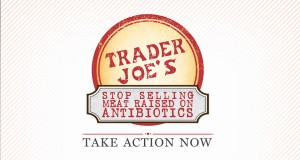 September 27, 2012

Consumers To Trader Joe's: Stop Selling Meat Raised on Antibiotics
Nearly 560,000 Consumers Sign Petition Calling On Grocer
To Help End Farm Practice That Threatens Public Health
NEW YORK, NY – At a news conference today in front of Trader Joe's Union Square store in New York City, Consumers Union's
Meat Without Drugs
campaign called on the national specialty grocer to stop selling meat and poultry raised on antibiotics.
The campaign, which includes more than a dozen consumer, environmental, and animal welfare organizations, delivered a petition to Trader Joe's signed by nearly 560,000 consumers. The event featured "Joe the Pig," a costumed character wearing a Trader Joes-style Hawaiian shirt who carried a sign that squealed "Get Me Off Drugs!"
The
Meat Without Drugs
campaign is asking Trader Joe's to help address a major public health crisis: the declining effectiveness of antibiotics caused by their overuse in meat and poultry production. Some 80 percent of all antibiotics are fed to animals, according to the FDA. Trader Joe's has so far declined to meet with Consumers Union.
"The rampant use of antibiotics on livestock is weakening the power of these critical medications to treat infectious diseases in people," said Jean Halloran, Director of Food Policy Initiatives for Consumers Union, the policy and advocacy arm of Consumer Reports. "We need meat without drugs to help ensure that the antibiotics we depend on will work when we need them most. We think supermarkets have a responsibility to help end this crisis."
Antibiotics are used on livestock mostly to promote faster growth and prevent disease in crowded and unsanitary conditions. As a result of large scale use of antibiotics in livestock production, most of the bugs that are vulnerable to the antibiotics are eventually killed off, leaving behind superbugs that are immune to one or more of the drugs. These superbugs spread on the farm and beyond, contributing to antibiotic resistance in our hospitals and communities.
Nearly 100,000 people die from infections they pick up in the hospital every year according to the Centers for Disease Control and Prevention. The vast majority are caused by bacteria that have developed resistance to the antibiotics used to treat them. In addition, superbugs are showing up on meat and poultry and causing serious illness and even death.
Consumer Reports found in 2010
that two-thirds of the chicken samples it tested were contaminated with salmonella or campylobacter or both and that more than 60 percent of those organisms were antibiotic-resistant.
"The continued misuse of antibiotics for growth promotion and disease prevention in industrial food animal production places enormous selective pressure on bacteria and adds to the alarming increase in antibiotic resistant pathogens that threaten human health and animal health," said Robert S. Lawrence, MD, director of the Johns Hopkins Center for a Livable Future. "Wholesale purchasers can help protect the health of the public by refusing to source meat and poultry from producers who continue to misuse antibiotics."
Today's news conference featured Kimberly Howland, a former lactation technician on a hog farming facility in Oklahoma. In 2007, Howland discovered that she had passed a methicillin-resistant Staphylococcus aureus (MRSA) superbug from the facility where she worked to her husband and daughter. MRSA has been found on hog farms and farmworkers can be carriers of the drug resistant bacteria. Howland's husband became seriously ill and had to undergo emergency surgery to remove the flesh eating MRSA infection from his leg.
"I had no idea that all those antibiotics on the farm were creating dangerous superbugs that could harm my family and show up on meat sold in stores," said Howland. "We experienced how frightening it can be when antibiotic-resistant superbugs spread from the farm to the community."
While most grocery stores, including Trader Joe's, carry some no-antibiotic meat and poultry, Whole Foods is the only store that sells these products exclusively, according to a
Consumer Reports investigation
. The campaign is targeting Trader Joe's because it already offers some chicken and beef raised without antibiotics, although no pork. Eighty percent of its products are private label, which means it has direct control over its suppliers. In recent years, the grocer has made a commitment to other sustainable purchasing practices, such as only carrying eggs from cage-free hens and sourcing its private label products with non-genetically modified ingredients.
"The link between antibiotic resistance and the daily feeding of antibiotics to healthy animals for meat production is indisputable and is leading to a serious health crisis," said Wenonah Hauter, executive director of Food & Water Watch. "This is why we've joined Consumers Union in calling on Trader Joe's to do the right thing and protect public health by insisting that all of its meat and poultry be raised without antibiotics."
Meat and poultry raised without antibiotics doesn't have to be expensive. While prices for "no antibiotics administered" meat and poultry vary depending on the store, type of meat, and cut, Consumer Reports found that some prices were actually lower than the national average for meat raised with antibiotics. In fact, Trader Joe's offers some of the lowest priced "no-antibiotic" chicken and beef products available.
"Knowing that antibiotics will protect our families when we need them is priceless," said Kristin Rowe-Finkbeiner, co-founder and executive director of MomsRising. "Trader Joe's can be a real leader on this critical public health issue by making a commitment to selling only meat raised without drugs."
Petition signatures for the Meat Without Drugs campaign were gathered by CREDO Action, Care2.org, Change.org, Consumers Union, Center for Food Safety, Food & Water Watch, MomsRising, Natural Resources Defense Council, and SignOn.org. The campaign is also supported by Fix Food, Center for Science in the Public Interest, Environmental Working Group, Farm Forward, Food Animal Concerns Trust, Humane Society of the United States, Johns Hopkins Center for a Livable Future, Less Cancer, and STOP Foodborne Illness.
"Antibiotic resistant superbugs are just scary, and the hundreds of thousands of CREDO activists who signed this petition shows the growing alarm about this public health threat," said Elijah Zarlin, Senior Campaign Manager at CREDO Action. "Trader Joes has a real opportunity to take a stand for safe food by answering consumers' calls and stop selling meat raised with antibiotics."
Contact: Michael McCauley, mmccauley@consumer.org, 415-902-9537 (cell) or Melissa Valentino, mvalentino@consumer.org, 914-378-2432