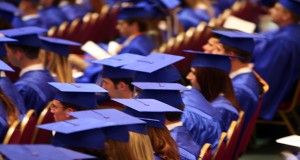 January 21, 2016
Consumers Union Calls On Congress to Take Action To Address America's College Affordability And Education Debt Crisis
WASHINGTON, D.C. – Consumers Union, the policy and advocacy division of Consumer Reports, praised a group of Senators today for introducing a package of bills that will help make college more affordable and assist those struggling to pay off their education debt.  The bills aim to ensure Pell grants cover more of the cost of higher education, enable Americans to refinance their loans at lower rates, and create a path for more students to afford community college without going into debt.
"We have a college affordability and education debt crisis that is crippling families across the country and holding back a generation of Americans," said Suzanne Martindale, staff attorney for Consumers Union.  "It's time for lawmakers to take bold action to help those who are going deep in debt to pay for the education they need to reach their potential and provide for themselves and their families.  These bills enact a number of important reforms that will help bring down the cost of going to college and provide a vital lifeline to those drowning in education debt."
The Reducing Education Debt Act introduced by lawmakers today includes a proposal by Senator Elizabeth Warren that would help Americans lower their education debt by refinancing their federal and private student loans.   It incorporates a plan by Senator Mazie Hirono that indexes Pell grants to the rate of inflation so that they will help pay for more of the cost of college.  And finally, it features a proposal by Senator Tammy Baldwin that provides federal matching funds of $3 for every dollar invested by states to help students waive tuition and fees for community college.
###
Contact:  Michael McCauley, mmccauley@consumer.org, 415-431-6747, ext 7606 or David Butler, dbutler@consumer.org or Kara Kelber, kkelber@consumer.org , both at 202-462-6262