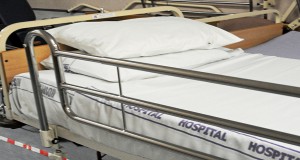 Tuesday, September 29, 2015
Consumers Union Testimony Calls for Quicker Implementation of Publicly Accountable Antibiotic Stewardship Programs & Notice to Patients of Superbug Outbreaks at Hospitals
WASHINGTON, D.C. – Lisa McGiffert, Director of the Safe Patient Project for Consumers Union, the policy and advocacy arm of Consumer Reports, will testify today at the first public meeting of the Presidential Advisory Council on Combating Antibiotic Resistant Bacteria. The Advisory Council was established to provide recommendations to the Department of Health and Human Services on the implementation of President Obama's National Action Plan for addressing the public health threat posed by dangerous superbugs.
The unrestrained use of antibiotics has resulted in the proliferation of drug resistant bacteria and secondary infections that sicken at least 2.25 million Americans each year, resulting in 37,000 deaths. McGiffert's testimony offers support for the National Action Plan's recommendation that all hospitals should be required to establish antibiotic stewardship programs but calls for public reporting of the results and quicker implementation of those efforts.
"Implementing accountable hospital antibiotic stewardship programs is the single most important first step toward reducing inappropriate antibiotic use and preserving the effectiveness of these critical medications," said McGiffert. "These programs must include documenting antibiotic use and the drug resistant infections that occur at hospitals. This information should then be reported to the public so hospitals can be held accountable for keeping patients safe."
The Action Plan calls for HHS to propose regulations by March 2016 requiring antibiotic stewardship programs, but it does not make clear when those rules must be in place. In addition, the plan appears to give hospitals between three to five years to implement accountable stewardship programs once the regulations have been finalized. Given the urgent need to curb the spread of superbugs in hospitals, Consumers Union is calling on HHS to enact those regulations by December 2016 and for hospitals to begin implementing those programs immediately after the rules have been adopted.
While the Action Plan's primary focus is on preserving the effectiveness of antibiotics and preventing health-care acquired infections, it does not address the needs of patients who are exposed to superbug outbreaks or those coming into the hospital vulnerable to being exposed.
"Patients and health authorities need to know when superbugs are spreading within a hospital," said McGiffert. "But there is no national policy requiring hospitals to notify patients about outbreaks and the risk they may face as a result. We need hospitals to report superbug infection outbreaks to patients, physicians and the CDC as they are occurring."
Consumers Union is also very concerned about antibiotic use in farm animals and believes that the Action Plan falls short of what is needed to address the misuse of these drugs for meat production. "We urge the Advisory Council to support the elimination of medically important antibiotics in healthy food animals – not just for growth promotion, but for disease prevention as well," said McGiffert. "We believe this step is critically important to reducing overall use of antibiotics."
Consumers Union will be joined at the Advisory Council meeting by patients and family members who have been personally impacted by superbug infections who will testify about the need for stronger action. The following day, these patient safety activists will meet with members of Congress to urge them to remember the dangers of antibiotic misuse as they consider new medical innovation legislation.
The Presidential Advisory Council on Antibiotic Resistant Bacteria will take place on Tuesday, September 29, from 9:00am – 5pm ET. The meeting will be livestreamed at www.hhs.gov/live-1. For more details, see the Advisory Council's Public Meeting Announcement.
To connect with McGiffert or the patient safety activists while they are in Washington, D.C., contact Kara Kelber (kara.kelber at consumer.org).
Contact: Michael McCauley, mmccauley at consumer.org, 415-902-9537 (cell) or Kara Kelber, kara.kelber at consumer.org, 202-462-6262