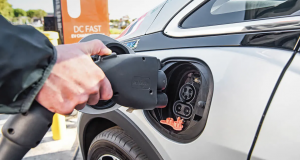 Joint release: Consumer Reports and Union of Concerned Scientists
DENVER, CO — As Colorado considers a new program that would make it easier for people to buy an electric vehicle, a new survey of prospective car buyers in Colorado finds strong interest in electric vehicles as well as support for a program that would require automakers to offer more electric car, truck and SUV options.
Passage of a Zero-Emission Vehicle (ZEV) program later this summer by Colorado's Air Quality Control Commission would lead to electric cars and trucks becoming more readily available to buy at local dealerships in the coming years. The program, put forward by Governor Jared Polis, would make it easier for Coloradans to access the benefits of electric vehicles, like saving money on fuel and vehicle maintenance costs. Right now fewer Coloradans are seeing plug-in electric vehicles to buy in their community compared to the average American, and also say they are seeing fewer advertisements for electric vehicles than the national average.
The survey, conducted by Consumer Reports (CR) and the Union of Concerned Scientists (UCS), also shows that 66 percent of prospective car buyers in Colorado have some interest in electric cars, trucks and SUVs. Breaking this down, 35 percent would consider one for their next purchase, 27 percent would consider one at some point down the road, and 4 percent say they are definitely planning on buying or leasing one for their next vehicle. These numbers would mark a notable escalation in electric vehicle purchases, which made up less than two percent of all new car purchases in Colorado in 2018.
Unfortunately, 85 percent of prospective car buyers in Colorado are unaware that their state currently offers a tax credit for consumers purchasing or leasing a new EV (electric vehicle), including 12 percent who said Colorado does not provide consumers with a rebate even though it does.
"Most Coloradans are interested in electric vehicles, but haven't seen any at dealerships," says Shannon Baker-Branstetter, manager of cars and energy policy for Consumer Reports. "Automakers and dealers are not providing consumers with enough information and selection to meet this demand–most car buyers in Colorado aren't even aware that their state provides tax incentives for many electric vehicle purchases. "
"As the electric vehicle market grows, more drivers see an electric vehicle as a realistic option," said David Reichmuth, senior engineer for the Clean Vehicles Program at UCS. "The future is electric, and that will have real benefits for drivers, for the air we breathe, and for the climate. But we need to accelerate this change, so consumers need states, utilities and automakers to step up and help them make the switch."
 SURVEY HIGHLIGHTS
 Coloradans overwhelmingly want to see more electric cars available to buy, and believe that electric vehicles have real benefits:
73 percent say automakers should provide more kinds of electric vehicles, including SUVs, pickup trucks and minivans.

75 percent say increased electric car use will help reduce oil use.

70 percent say increased electric car use will help reduce pollution.

67 percent say electric cars will help consumers save money on gasoline and maintenance.
Policies that would grow the electric car market and help consumers drive electric also draw strong support in Colorado:
74 percent feel that incentives and tax rebates for plug-in electric cars should be available to all consumers (only 12 percent disagree).

69 percent say Colorado should make it easier for consumers to purchase and charge plug-in electric vehicles (only 12 percent disagree).

70 percent are supportive of their state increasing the use of plug-in electric vehicles for school buses, public transit, and fleets.

68 percent say electric utilities should offer discount rates for plug-in electric car charging.

52 percent say Colorado should require automakers to offer plug-in electric vehicle options (25 percent didn't have an opinion either way, and only 21 percent disagree).
Recent analysis from UCS shows that electric vehicles have a lower climate impact than comparable gasoline vehicles. Overall, driving on electricity in Colorado produces the global warming emissions equivalent to a gasoline-powered vehicle that gets 46 miles per gallon—an advantage that's only growing as electric vehicle (EV) technology improves and more renewable power comes on to the Colorado electrical grid. UCS analysis also shows it can be cheaper to fuel and maintain an electric vehicle. For instance, drivers in Denver could save over $770 a year by switching from a gasoline-powered car to an electric vehicle.
Consumers and media can learn more about the electric vehicles for-sale today by checking out the Consumer Reports "Electric Cars 101" web guide.
The nationally representative survey had a sample of 1,659 American adults (ages 18 or older), who are considering purchasing or leasing a new or used vehicle within the next two years. The Colorado sample consisted of a demographically representative sample of 405 Coloradan adults, who are considering buying or leasing a new or used vehicle within the next two years. Coloradan respondents were obtained from probability and non-probability sample sources. 
###
Consumer Reports media contact: Adam Z. Winer, 202-462-6262 x7444, adam.winer@consumer.org
Union of Concerned Scientists media contact: Seth D. Michaels, 202-331-5662, SMichaels@ucsusa.org
###
Consumer Reports is a nonprofit consumer advocacy organization that works side by side with consumers to create a fairer, safer, and healthier world. For 80 years CR has been providing evidence-based product testing and ratings, rigorous research, hard-hitting investigative journalism, public education, and steadfast policy action on behalf of consumer interests. For more information, go to CR.org/Advocacy.
The Union of Concerned Scientists puts rigorous, independent science to work to solve our planet's most pressing problems. Joining with people across the country, we combine technical analysis and effective advocacy to create innovative, practical solutions for a healthy, safe and sustainable future. For more information, go to www.ucsusa.org.