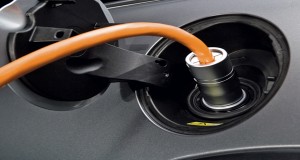 December 11, 2013
New Survey Finds Many Households Can Use Electric Vehicles
4 out of 10 Households Can Switch With Little or No Change to Driving Habits
WASHINGTON (Dec. 11, 2013) — Four out of 10 households could use an electric vehicle with little or no change to their driving habits and vehicle needs, according to a national survey released by the Union of Concerned Scientists and Consumers Union.
While less than 1 percent of the country are driving electric vehicles (EVs) today, the survey found 42 percent of respondents with cars — equivalent to 45 million households when applied nationally — meet the basic criteria for using plug-in hybrid electric vehicles like the Chevy Volt.  Over half of those households are also able to use a battery-electric vehicle (BEV) like the Nissan LEAF.
"Consumers who might be shopping for a new vehicle this holiday season may be surprised to learn that an electric vehicle could be a good fit for their household," said Josh Goldman, policy analyst for the UCS Clean Vehicles Program. "Drivers may have preconceptions about whether electric vehicles can meet their driving needs and habits, and this survey shows that for many, they can."
To view a detailed infographic about the report's findings, click here.
While plug-in hybrid EVs have similar driving range to gasoline-only vehicles, the current range of BEVs on the market today can also meet many driver's needs. The survey found that almost 70 percent of drivers drive less than 60 miles on a weekday, which is within the range of almost every BEV on the market today.
"This new survey shows today's EVs can be practical for many car buyers," Shannon Baker-Branstetter, policy counsel for Consumers Union. "It demonstrates that these vehicles could be a viable option for tens of millions of American households that want lower fuel costs and cleaner air without compromising their driving needs."
If everyone that could switch to driving on electricity did so today, the nation would:
Save 15 billion gallons of gasoline each year, more than all the gasoline consumed last year by the entire state of California
Avoid 89 million metric tons of greenhouse gas emissions each year, equivalent to removing 14 million of today's gasoline cars from the road for a year; and
Save $33 billion on fuel each year – based on gas prices of $3.60 per gallon and electricity costs of 12 cents per kilowatt hour.
Survey respondents met the basic criteria for using a typical plug-in hybrid EV available today if they have access to parking and an electrical outlet at home or work, need to carry less than 5 occupants, and do not need hauling or towing capability. A BEV was considered suitable when these criteria were met and maximum weekday driving distance did not exceed 60 miles and, in the case where weekend driving frequently exceeded current BEV vehicle range, other household vehicles were available.
The results of the survey not only indicate that millions of households could utilize an EV today, but also show how that figure could grow in the future. The survey found that 33 percent of respondents did not have access to parking with an electrical outlet, but met the other basic criteria for owning a plug-in hybrid electric vehicle. In addition, more than a third, 37 percent, agreed that having access to charging at the workplace would increase the likelihood of considering an EV in their next vehicle purchase.
While incentives which lower the cost of purchasing an electric vehicle will continue to be a key strategy in supporting a growing market for electric vehicles, these findings suggest that efforts to increase access to vehicle charging options at home and workplace can also help make EVs a more likely choice for vehicle buyers.
The survey found 65 percent of Americans think electric vehicles are an essential part of our nation's transportation future for reducing oil use and global warming pollution, with 60 percent saying they would consider owning one themselves. State policymakers are taking notice of consumer interest and the potential for increased use of EVs, with eight governors recently announcing a joint plan to put 3.3 million zero-emission vehicles on America's roads by 2025.
"There is a huge potential to continue expanding the market for electric vehicles, a key solution for tackling climate change and cutting our nation's projected oil use in half over the next 20 years," said David Reichmuth, senior engineer for the UCS Clean Vehicles Program. "Americans recognize that we need to reduce our oil use, and electric vehicles offer a great opportunity for drivers to do just that."
The telephone survey was conducted among 1,004 randomly selected adults over 18 years of age and carried out over September 26 to September 30. Of all the respondents, 914 had at least one vehicle and were surveyed on driving and parking behaviors. All respondents were asked about attitudes toward electric vehicles. The margin of error is +/- 3.1 percentage points at a 95 percent confidence level for questions asked of all respondents and +/- 3.2 percentage points for questions applied to vehicle owners.
##
The Union of Concerned Scientists puts rigorous, independent science to work to solve our planet's most pressing problems. Joining with citizens across the country, we combine technical analysis and effective advocacy to create innovative, practical solutions for a healthy, safe and sustainable future. For more information, go to www.ucsusa.org.
Consumers Union is the public policy and advocacy division of Consumer Reports. Consumers Union works for telecommunications reform, health reform, food and product safety, financial reform, and other consumer issues. Consumer Reports is the world's largest independent product-testing organization.  Using its more than 50 labs, auto test center, and survey research center, the nonprofit rates thousands of products and services annually.  Founded in 1936, Consumer Reports has over 8 million subscribers to its magazine, website, and other publications.