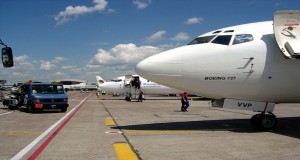 July 28, 2014
House Passes "Transparent Airfares Act" that Shouldn't Be Cleared for Takeoff
Consumers Union Urges Senate to Reject Anti-Consumer Bill
WASHINGTON, DC – The House of Representatives today passed legislation that would make it much harder for consumers to know the full price of an airline ticket until the last moment before purchase. The Transparent Airfares Act of 2014, which would allow airlines to conceal government-mandated taxes, fees, and surcharges until just before consumers purchase their ticket, was passed by a voice vote.
Consumers Union, the policy and advocacy division of Consumer Reports, strongly opposes this legislation that would allow airlines to advertise a fare that's significantly lower than the full price.
William J. McGee, aviation and transportation consultant to Consumers Union, said, "This is an industry-backed bill that should never have been cleared for takeoff in the first place. Despite its title, the Transparent Airfares Act would only serve to make the bottom line airfare price more opaque and harder for consumers to shop. Proponents of the legislation claim that consumers are being harmed because taxes and fees imposed are being 'hidden', which is simply untrue. The real harm to consumers would come from making it even more difficult to pinpoint the total cost of a ticket when travelers are already dealing with an influx of new airline fees for anything from carrying on bags, selecting seats, or calling reservation centers. Consumers Union strongly opposes this legislation and urges the Senate to block any similar legislative effort."
The bill would essentially reverse the 2012 Department of Transportation Full Fare Advertising Rule, a consumer protection law that mandated airlines to advertise tickets at the price that the consumer will pay. The DOT rule allows airlines to publish the breakdown of the base fare and the taxes alongside the full fare price. The legislation passed today was rushed through the House Transportation and Infrastructure Committee earlier this year with no hearings, no public debate, and no calls for comments.
###
Media contact: Kara Kelber,  202-462-6262