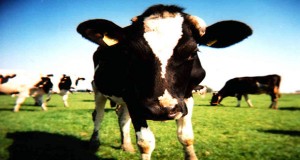 April 6, 2015
DOCTORS, VETS AND FARMERS TO TESTIFY FOR BILL CURTAILING ANTIBIOTICS OVERUSE IN OREGON
OHSU and Oregon Medical Association join in support
With leading medical authorities warning that public health is threatened by a "post-antibiotic future", a panel of state senators will receive testimony today from organizations representing Oregon doctors, nurses, farmers and consumers in support of legislation [pdf] to curtail the overuse of these critical medicines on Oregon farm animals. If the proposed bill, SB 920, is approved by lawmakers, Oregon would become the first state to act on this matter.
Among those scheduled to deliver testimony today before the Senate Committee on Healthcare is Dr. Brian Wong, Chair of the Infectious Diseases Division at the Oregon Health and Science University, who will speak on behalf of both OHSU and the Oregon Medical Association in support of Senate Bill 920 (Link to Dr. Wong's written testimony).
Dr. Wong will be joined by a number of other medical professionals including Dr. John Santa, representing Consumers Union, the policy and action arm of Consumer Reports; Dr. Andy Miller representing Oregon Physicians for Social Responsibility; and Dr. Dawn Nolt, Clinical Associate Professor of Pediatrics at the Division of Infectious Diseases at OHSU and the Oregon Nurses Association. (Links to Dr. Santa and ONA's written testimony).
In addition, SB 920 has also been endorsed by a number of other medical organizations and professionals including the Oregon Pediatric Society, Greater Portland Chapter of the Academy of Medical Surgical Nurses, the Oregon Primary Care Association and Coalition of Community Health Clinics. The measure is being brought forward by Reps. Peter Buckley, Mitch Greenlick and Sen. Laurie Monnes Anderson.
The committee will also hear verbal and written testimony from veterinarians. Dr. Mary Huerra, DVM of Sutherlin will speak in person and also on behalf of Dr. Cierra Buer, DVM of Powell Butte and Dr. Christina Morris of Portland (Links to Dr. Buer and Dr. Morris' written testimony).
Small and medium-sized farmers from across Oregon continue to weigh in support of SB 920 and its companion bill in the Oregon House of Representatives, HB 2598. Last week, over 100 farmers affiliated with Friends of Family Farmers came to Salem and visited lawmakers' offices in support of SB 920. One of them was Mike Guebert, owner of Terra Farma in Corbett, who criticized the federal government's anemic response to the issue and called on Oregon to take decisive action (Link to Mr. Guebert's written testimony, and those of Scio farmer Kendra Kimbirauskas, Yamhill farmer Chrissie Manion Zaerpoor, Oregon City farmer Nathan Moomaw, and Friends of Family Farmers director Ivan Miluski).
The World Health Organization, the Food & Drug Administration and most major national medical organizations have recognized that antibiotics are becoming less effective and could stop working. The Centers for Disease Control and Prevention estimates that at least 2 million Americans become infected with bacteria that are resistant to antibiotics and at least 23,000 people die each year as a direct result of these infections. [Link to OSPIRG testimony with citations for these and other facts cited in this release]
Factory farming practices are often a source of the problem; 70 percent of antibiotics sold in the United States are used on livestock and poultry, and not primarily to treat sick animals. Instead, antibiotics are often put into the daily feed of healthy animals to promote growth and prevent disease due to overcrowded conditions. This practice can breed powerful antibiotic resistant bacteria, sometimes called "superbugs", These germs can then find their way to the human population through numerous pathways, including contaminated food, airborne dust blowing off farms, and water and soil polluted with contaminated feces.
Opponents of the measure claim that recent federal action by the Food and Drug Administration are sufficient and make SB 920 moot. However, the FDA's action addresses only one of the numerous ways in which antibiotics are overused on farm animals – leaving the vast majority of abuse untouched. [See OSPIRG testimony for more detail].
"The medical community, doc and vets alike, have made it clear that we should stop giving animals routine, low doses of antibiotics for any reason, said OSPIRG Executive Director David Rosenfeld. "Yet, the federal government continues giving the green light to this dangerous practice. It is up to Oregon to protect antibiotics and the public's health."
SB 920's backers have agreed to remove one provision in Section 6 of the bill, which gave a private right of action to citizens.
###
OSPIRG is a statewide public interest group.
Contact: Dave Rosenfeld, OSPIRG, 503-709-8676, daver@ospirg.org