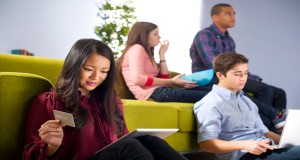 October 27, 2015
Consumers Union Praises Feds for Protecting Students
From Aggressive Marketing, Restricted Choices, and High Fees
WASHINGTON, D.C. – New regulations issued by the Department of Education today will help protect students from unfair campus banking card practices that can eat into financial aid funds, according to Consumers Union, the policy and advocacy division of Consumer Reports.  The new rules cover banking cards will go into effect in July 2016.
"Students deserve safe and convenient access to their financial aid funds without incurring costly charges," said Suzanne Martindale, staff attorney for Consumers Union.  "We applaud the Department of Education for taking action to protect students using campus banking products from aggressive marketing, restricted choices, and high fees."
In recent years, financial firms have increasingly marketed banking products to students at colleges and universities across the country.   According to the Government Accountability Office, at least 852 schools have agreements to market debit or prepaid cards to students.  Campus banking products are often used to disburse financial aid to students and can be linked to debit or prepaid cards.  While these products can be convenient for students and cost-effective for colleges and universities, some have come under scrutiny for controversial fees and policies.
A 2014 Consumer Reports investigation of campus banking product offerings from nine financial firms found that, while some offered simple, low-cost fee structures and convenient access to funds, others came with high or multiple usage fees that added up to significant annual costs for those who used their cards frequently.  Furthermore, accessing fee information proved very difficult.
"Students shouldn't get nickeled and dimed with high fees just to access their financial aid funds," said Pamela Banks, policy counsel for Consumers Union.  "This new rule will ensure students have a choice in how to receive their aid, and it will promote transparency and competition in the market for campus banking products."
The new rules adopted by the Department of Education establish a number of important protections for students, including:
Sets minimum requirementsfor accounts opened during the financial aid disbursement selection process, as well as those directly marketed to students;
Requires a neutral menu of optionsfor students choosing how to receive their financial aid disbursement, with direct deposit to an existing account displayed prominently as the first option;
Requires affirmative consentfrom a student or parent to open a campus account before mailing an access device associated with the account, or linking a student's ID card to the account;
Requires meaningful access to free ATMsfor campus accounts;
Bans point-of-sale and overdraft fees on certain accounts, and requires banks to enable students to access their funds at any time without a fee through at least one method (for example by making a withdrawal at a bank branch or getting a lump sum check); and
Requires public disclosure of campus banking contracts, including prominent posting on school websites as well as submission to a centralized database.
###
Contact:  Michael McCauley, mmccauley@consumer.org, 415-902-9537 or David Butler,dbutler@consumer.org or Kara Kelber, kara.kelber@consumer.org, both at 202-462-6262