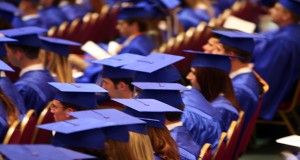 Thursday, May 30, 2013
Consumers Union Urges the Department of Education to Strengthen Oversight of For-Profit Colleges  
Tighter Rules Needed to Ensure Students & Taxpayers Get Good Return on Investment in Higher Education 
SAN FRANCISCO, CA – Consumers Union, the policy and advocacy arm of Consumer Reports, urged the Department of Education to strengthen oversight of for-profit colleges at a field hearing held today in San Francisco by the federal agency to explore topics for future rulemaking.
In testimony at the hearing, Suzanne Martindale, staff attorney for Consumers Union, called for tighter rules to ensure that federal financial aid only goes to career education programs that effectively train students and prepare them for gainful employment in a recognized occupation.
"Students and taxpayers deserve a good return on their investment in higher education," said Martindale.  "Unfortunately, many for-profit colleges are failing to provide students with the kind of quality education that leads to success in the job market.  The Department of Education must strengthen oversight to ensure that students and taxpayers are not subsidizing schools that do little more than put students in debt."
According to recent data by the Department of Education, for-profit colleges enroll 13 percent of students seeking higher education, but account for 47 percent of student loan defaults.  Twenty-three percent of their borrowers default on their loans within three years of graduating or dropping out.  In 2012, for-profit colleges benefitted from $32 billion in federal financial aid – roughly 25 percent of the total amount going to higher education programs.
In 2011, the Department of Education issued a "gainful employment" rule for career education colleges receiving federal student loan assistance to hold them accountable for providing quality education for students that leads to viable job prospects.  While the rule has been subject to legal challenges by for-profit colleges, the court has made clear that the Department has the authority to define gainful employment.
Consumers Union urged the Department of Education to continue working to improve the gainful employment rule by setting stronger program loan repayment thresholds.  For example, if only 35 percent of a college's former students in a given program are repaying their loans, this is a strong indication that they are ill-equipped to manage their debt.  Other reforms supported by Consumers Union include establishing stricter metrics for evaluating college performance and taking steps to prevent colleges from manipulating student default rates to inflate their level of success.
Consumers Union also urged Congress to work with the Department of Education to make sure that it has all the tools it needs to effectively monitor the performance of colleges and enforce a robust gainful employment rule.
###
Contact:  Michael McCauley, mmccauley@consumer.org or 415-431-6747, ext 126 or 415-902-9537 (cell)