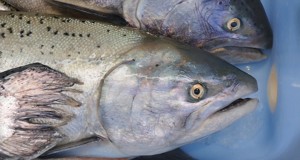 PRESS ADVISORY
March 5, 2013
CONSUMERS UNION'S DR. MICHAEL HANSEN TO TESTIFY
TOMORROW MARCH 6, 8:00 AM AT WASHINGTON STATE HOUSE HEARING ON
LABELING GENETICALLY ENGINEERED FOOD
March 5, 2013—Michael K. Hansen, Ph.D., a Senior Staff Scientist with Consumers Union, the public policy arm of Consumer Reports, will appear tomorrow, March 6, 2013 at 8:00 am, before the Washington State House Agriculture & Natural Resources committee to testify in favor of labeling genetically engineered (GE) food sold there. Consumers Union supports labeling of GE food on both the national and state levels. For more on CU's position on GE food, please
go here
.
Dr. Hansen, who previously testified at a February 14 hearing before the Washington State Senate Agriculture, Water & Rural Economic Development, will respond to erroneous claims made during that hearing by the biotech industry that GE foods are not novel and that the technology has been proven to be safe and "around for thousands of years."
State legislators will take public testimony on Initiative 522, The People's Right to Know Genetically Engineered Food Act, which would require labeling of any genetically engineered food sold in Washington. The initiative is eligible for November's ballot. This hearing will be held at House Hearing, Room B,? John L. O'Brien Building, Olympia, Washington and can be viewed live, online here.
Dr. Hansen is an expert on GE food and will provide compelling testimony in support of labeling and for I-522. His testimony will be made publicly available. He has been largely responsible for developing CU positions on safety, testing, and labeling of GE food and mad cow disease. Since 2003, he has worked on a multi-state effort to ban the use of food crops to produce pharmaceutical drugs and industrial chemicals.
Dr. Hansen has testified at hearings in Washington, D.C., many states, and Canada, and has prepared comments on many proposed U.S. governmental rules and regulations on food safety issues. He also represents Consumers International, a federation of more than 250 organizations in 110 countries, at Codex Alimentarius and other international fora on issues. Dr. Hansen also speaks on CU's concerns on pest management and antibiotics in animal feed at meetings and conferences throughout the world. For his full biography, please go here.
# # #
Contact: Naomi Starkman
nstarkman@gmail.com
917.539.3924