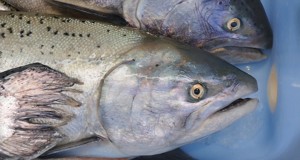 Media Advisory: October 17, 2013
Consumers Union Scientist To Discuss Genetically Modified Organisms (Gmos) At Annual Grafton County Farm Bureau Meeting
Michael Hansen, PhD, a senior scientist at Consumers Union, the public policy arm of Consumer Reports, will appear on a panel at the annual meeting of the Grafton County Farm Bureau this Saturday, October 19, 2013 from 5 – 8 pm at Horse Meadow Senior Center, North Havervill, New Hampshire. The discussion will also feature Anastasia Bodner, co-director of Biology Fortified, Inc. The two speakers will present their viewpoints on GMO vs. non-GMO and audience members will be encouraged to participate in the discussion. There is a $20 entry fee, which includes dinner.
Last month, Dr. Hansen spoke to a subcommittee of the House Environment and Agricultural Commodities Committee in support of proposed legislation requiring the clear labeling of genetically modified or genetically engineered (GE) foods in New Hampshire. At that hearing, Dr. Hansen's testimony countered the food industry's oft-cited argument that GE labeling would raise the costs of everyday grocery items and pointed to potential health problems associated with GE foods.
Passage of the New Hampshire bill is significant to consumers elsewhere in New England. The governor of Connecticut has already signed a law requiring GE food labeling, but the mandate would only take effect after four other states, including one bordering Connecticut, enact a similar law. It also requires the aggregate population of any Northeast states that enact such a law to comprise a total population of more than 20 million people. More than 20 other states are considering labeling laws, including Maine, Massachusetts, and Vermont.
Dr. Hansen is an expert on GE food and will provide compelling arguments in support of labeling. He has been largely responsible for developing CU positions on safety, testing, and labeling of genetically engineered food and mad cow disease. Since 2003, he has worked on a multi-state effort to ban the use of food crops to produce pharmaceutical drugs and industrial chemicals. For his full biography, please go here.
GE foods coming rapidly down the pike are all of great concern in the Northeast, as the U.S. Department of Agriculture may soon allow the first GE apple, which could negatively affect U.S. apple exports. In addition, the U.S. Food & Drug Administration (FDA) is poised to approve a GE salmon, which is designed to grow to maturity twice as fast as normal salmon.
Consumers Union supports labeling of GE food on both the national and state levels. For more on CU's position on GE food, please go here.
 ###
Contact: Naomi Starkman, nstarkman.consultant@consumer.org; 917.539.3924-c