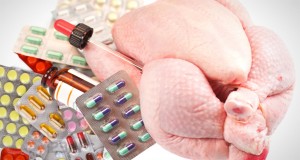 September 30, 2014
Consumers Unions Praises California Governor Jerry Brown for Vetoing Weak Bill to Ban the Use of Antibiotics in Livestock
San Francisco, CA—Consumers Union, the advocacy arm of Consumer Reports, today praised California Governor Jerry Brown for vetoing Senate Bill 835, which would have banned the use of antibiotics for growth promotion and require a veterinarian prescription for a livestock antibiotic. Consumers Union has long advocated for antibiotics to be used only for disease treatment and not for the use of disease prevention.
"The overuse of antibiotics in food production is making antibiotics ineffective for treatment of human disease. Antibiotics should be used on the farm only for the treatment of sick animals, for a limited period of time, as antibiotics are used in human disease treatment," said Elisa Odabashian, Director of the West Coast Office and State Campaigns for Consumers Union. "We congratulate Governor Brown for his unwillingness to codify weak FDA guidance that allows antibiotics to continue to be overused on healthy farm animals for disease prevention instead of disease treatment."
Consumers Union and other public health and advocacy organizations have been opposed to this bill, since it mirrored the U.S. Food and Drug Administration's Guidance (FDA) for Industry #213, which phases out the use of antibiotics to promote growth in food animals. Consumers Union believes similarly that the Guidance won't actually do much to reduce the use of these drugs because "disease prevention" labels could simply replace those for growth promotion.
SB 835 shared the same the central flaw of the FDA guidance on which it is modeled: it would have allowed most current uses to continue under a different name.
Consumers Union supported Assembly Bill 1437, which would have banned the sale of meat in California if antibiotics were used for a purpose other than treating illness, but this bill failed to pass its first policy committee.
The Centers for Disease Control has called antibiotic-resistance an urgent health threat. President Obama recently signed an executive establishing a new inter-agency task force charged with developing a national strategy to combat antibiotic-resistant bacteria.
# # #
Contact: Naomi Starkman, nstarkman@gmail.com