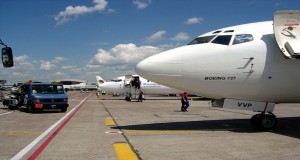 Tuesday, November 12, 2013
 Consumers Union on American Airlines/US Airways antitrust settlement
WASHINGTON — American Airlines and US Airways today agreed to concessions to settle the U.S. Department of Justice's antitrust suit and move forward on their proposed merger.  This settlement must be approved by a federal court.
The airlines agreed to divest slots and gates at seven key airports across the U.S. to allow more competition from low cost carrier airlines, and they agreed to preserve virtually all of their hubs for at least three years.
Consumers Union, the policy and advocacy arm of Consumer Reports, had raised concerns about how the merger would impact competition and consumer choices.  The combination would create the nation's largest airline, with the four largest carriers–American, Delta, Southwest, and United–dominating about 80 percent of the marketplace.
William J. McGee, travel and aviation consultant for Consumers Union, said, "These are significant concessions that could provide a real shot in the arm to low cost carrier airlines. That competition could help lower prices for consumers in those markets.  But we're still very concerned about a marketplace dominated by larger airlines that are essentially 'too big too fail.'  The merger could still leave smaller markets underserved with fewer choices for flights.  We hope the court will look closely at how this proposed merger would affect competition across the industry, as well as the impact on prices and service for all consumers."
***
Media Contact: David Butler, Consumers Union, 202-462-6262, dbutler@consumer.org