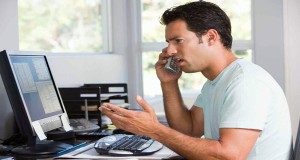 Monday, January 5, 2015
Consumers Union: New FCC online help center provides "one-stop shop" to file complaints, resolve problems
CU provided input, advice to FCC in creation of user-friendly online hub to help consumers
WASHINGTON – The Federal Communications Commission today announced the launch of a new online help center to make it simpler and easier for consumers to file complaints, resolve problems, and find relevant information about communications issues.
Consumers Union, the advocacy arm of Consumer Reports, provided input and advice to the FCC in the creation of a more user-friendly online center to better serve and empower consumers.
Delara Derakhashani, policy counsel for Consumers Union, said, "This site will make it easier for people to file and track complaints about problems like annoying robocalls and fraudulent charges, and it will help the FCC spot emerging trends in the marketplace. This is a one-stop shop for consumers, and it's a real improvement over the old system where forms and information were spread out and hard to find.  We're pleased that more of this complaint data is going to be available to the public, which will help root out problems and raise the bar for companies."
Derakhshani noted that U.S. Sens. Bill Nelson and Tom Udall had called on the FCC to update and improve its systems for collecting complaints from consumers, and credited the senators for helping press the FCC to launch the help center.
Consumers Union is a longtime advocate for online consumer-complaint databases.  CU has worked with other agencies on sites such as the Consumer Product Safety Commission's SaferProducts.gov and the Consumer Financial Protection Bureau's site for filing complaints about financial products and services.
Derakhshani said, "When you're struggling to fix a problem with a phone company or a cable provider, it's hard to know where to turn.  The FCC has streamlined its process so you can make a complaint, keep up with its progress, and communicate with people who can help you."
***
Media contact: David Butler, dbutler@consumer.org, 202-462-6262