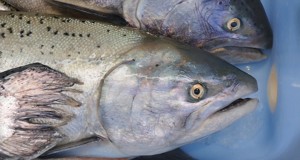 Consumers Union Hails Historic Connecticut Legislature Vote On Labeling Genetically Engineered Food;
Urges Governor Malloy To Sign Bill Seeks Action In Maine And Massachusetts Next Week
Yonkers, NY—Consumers Union, the advocacy arm of Consumer Reports, today urged Connecticut Governor Dannel P. Malloy to sign a historic bill requiring labeling of genetically engineered (GE) food passed on Monday by the Connecticut legislature by a 134-3 vote. The bill makes Connecticut the first state in the nation to mandate the labeling of GE food.
"The action by the Connecticut legislature is a huge step forward for consumers' right to know, and we hope Governor Malloy will quickly sign the bill into law," said Michael Hansen, Ph.D, Senior Scientist with Consumers Union, who testified at several hearings in favor of the measure earlier this year.
The mandate would take effect after four other states, including one bordering Connecticut, enact a similar law. It also requires the aggregate population of any Northeast states that enact such a law to comprise a total population of more than 20 million people.
More than 20 other states are considering labeling laws, including Maine, Massachusetts, and Vermont. The next state to pass a bill could well be Maine, which will be voting next week on a labeling measure. Consumers Union also supports that bill.
Dr. Hansen will also testify next week at a hearing before the Massachusetts state legislature Joint Committee on Public Health. "With unapproved genetically engineered wheat turning up in a farmer's field in Oregon last week, consumers want to know if these crops are getting in their food," said Dr. Hansen. "We hope Massachusetts will move quickly to follow Connecticut's lead and require labeling."
Genetically engineered foods coming rapidly down the pike are all of great concern in the Northeast, as the U.S. Department of Agriculture may soon allow the first GE apple, which could negatively affect U.S. apple exports. In addition, the U.S. Food & Drug Administration (FDA) is poised to approve a GE salmon, which is design to grow to maturity twice as fast as normal salmon.
"FDA's safety assessment of the salmon was highly inadequate–their analysis of the allergy-causing potential of the salmon was based on a look at just six fish," said Dr. Hansen. More than two million people recently sent comments to the FDA, vehemently opposing the approval of the GE salmon.
# # #
Contact: Naomi Starkman, nstarkman@gmail.com;917.539.3924